A guide to the perfect bedroom
When we sleep, our body gradually recovers as it passes through the different phases of the sleep cycle. Having the right background setting is fundamental in making this part of our life as simple and pleasurable as possible. To help you achieve this, we have drawn up the following guide to the perfect bedroom. Close your eyes and let's begin.
5 September 2018
1. The right lighting
In a previous blog, we talked about lighting in homes. Because bedrooms are one of the most sensitive areas in terms of light, the following points must be carefully applied.
TIP: In bedrooms, warm lighting should be used before you go to sleep and strong cool lighting when you wake up. Everything will also depend on your personal tastes, but here are 3 key points to bear in mind so that you get the lighting right in your bedroom.
- Take advantage of the available natural light and complement this with indirect lighting.
- If the wall and floor coverings are in warm or dark colours, they will absorb light and so you will need more lights in the room and they will have to be strong bright ones.
- The intensity of the light will depend on the size of the room. If the bedroom is small, do not use lighting that is too strong or the room will seem even smaller.
In the following bedroom featuring the Evoque collection by Keraben, we make optimum use of the natural light that comes through the big picture window, complemented with indirect lighting (by the sofa and on the bedside tables). The Led ceiling light also adds a touch of warmth to this cool-coloured room at night-time before you go to sleep. The bedhead stands out for its reflective capacity, using the same model as the tiles on the floor for decorative purposes. This is a decorative design technique that is all the rage, which we will expound upon below.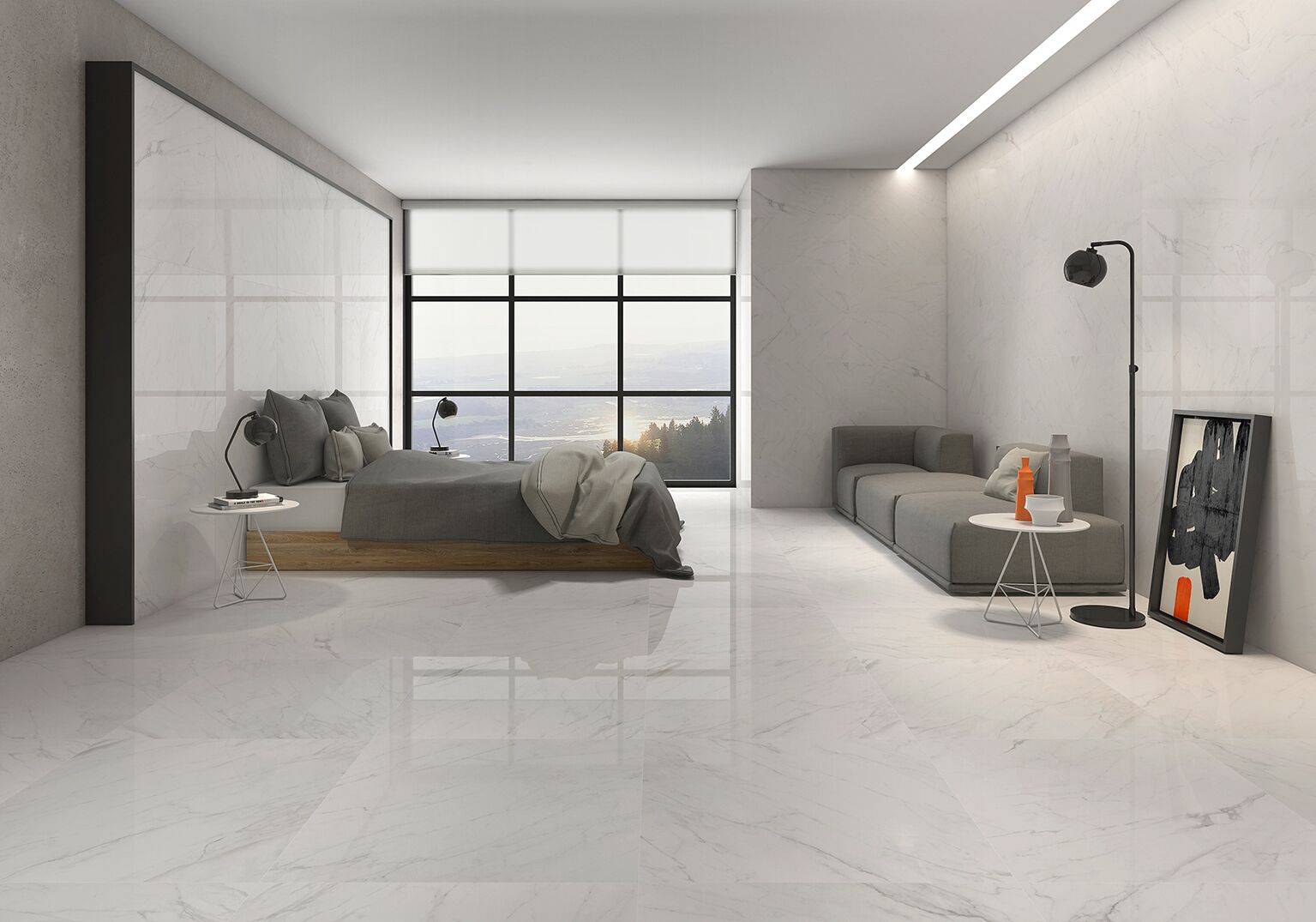 2. Frame your dreams
One very modern stylish way of doing this is to use the floor tile model on the wall to create a bedhead. By doing this, a certain continuity is achieved in the room's design. Framing your bed in this way also gives the bedroom a structural balance.
In addition, this kind of bedhead is far easier to clean than ones made of materials like wood or upholstery fabric.
This example of an extra-large bedhead, using tiles from the In Time collection by Casainfinita, frames the bed with its straight lines, lending the room a structural equilibrium. In this way, the collection has been extended from the floor to the wall, creating a perfect setting where indirect lighting can be used to add a certain touch of warmth to In Time's grey shades of colour.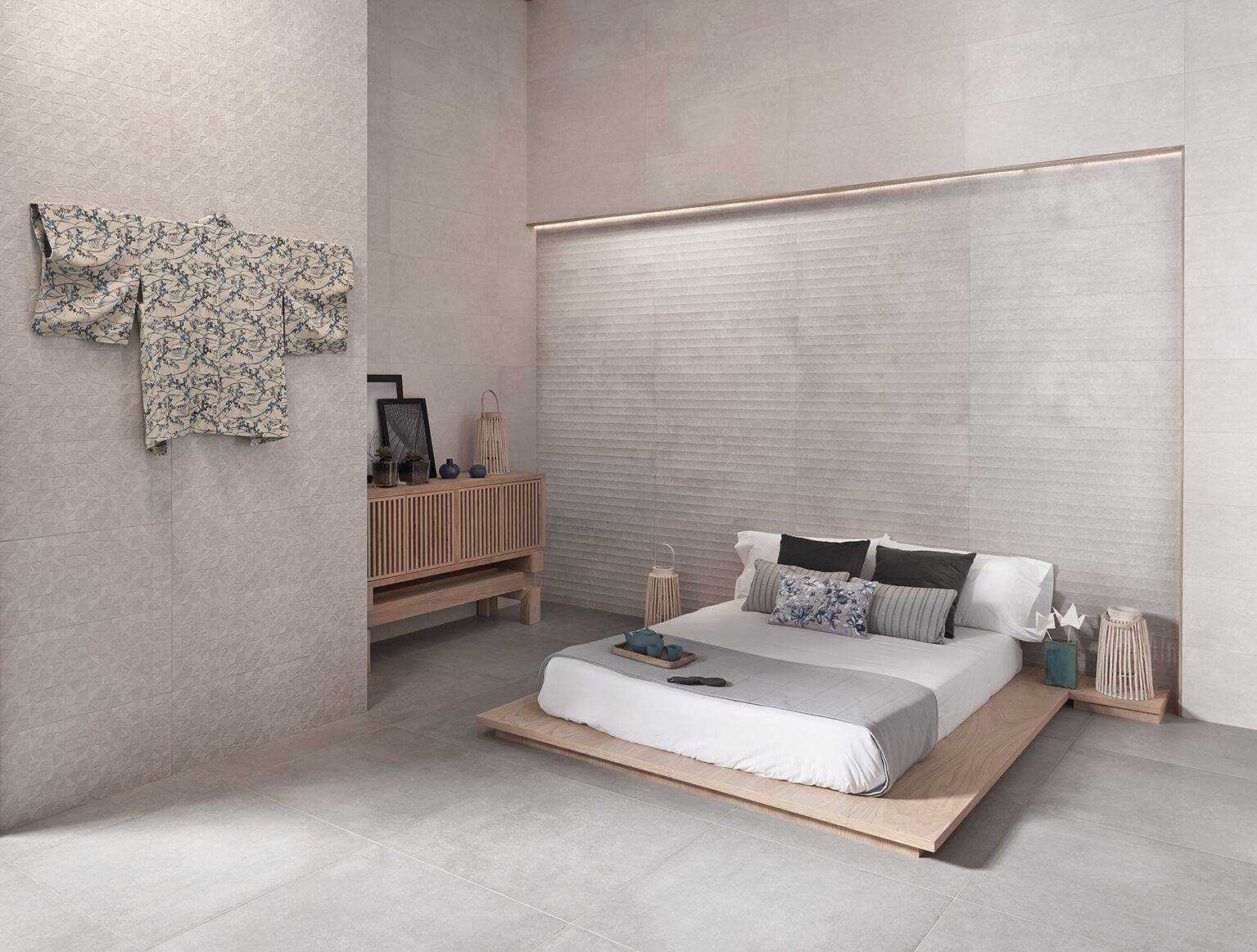 3. Give careful consideration to colour
Colour is closely tied in with different states of mind. "Colour therapy" is an unbeatable way of ensuring proper rest and improving your everyday life. The colours that are used in bedrooms must be carefully planned. White is always a convenient choice and it is easy to combine with other finishes. It is simple to light and it fits in well with virtually all decorative styles. If you are someone who needs warmth, we suggest you opt for wood or earthy shades for a cosy restful feel. Warm colours are specially recommended in places with cold climates or little light.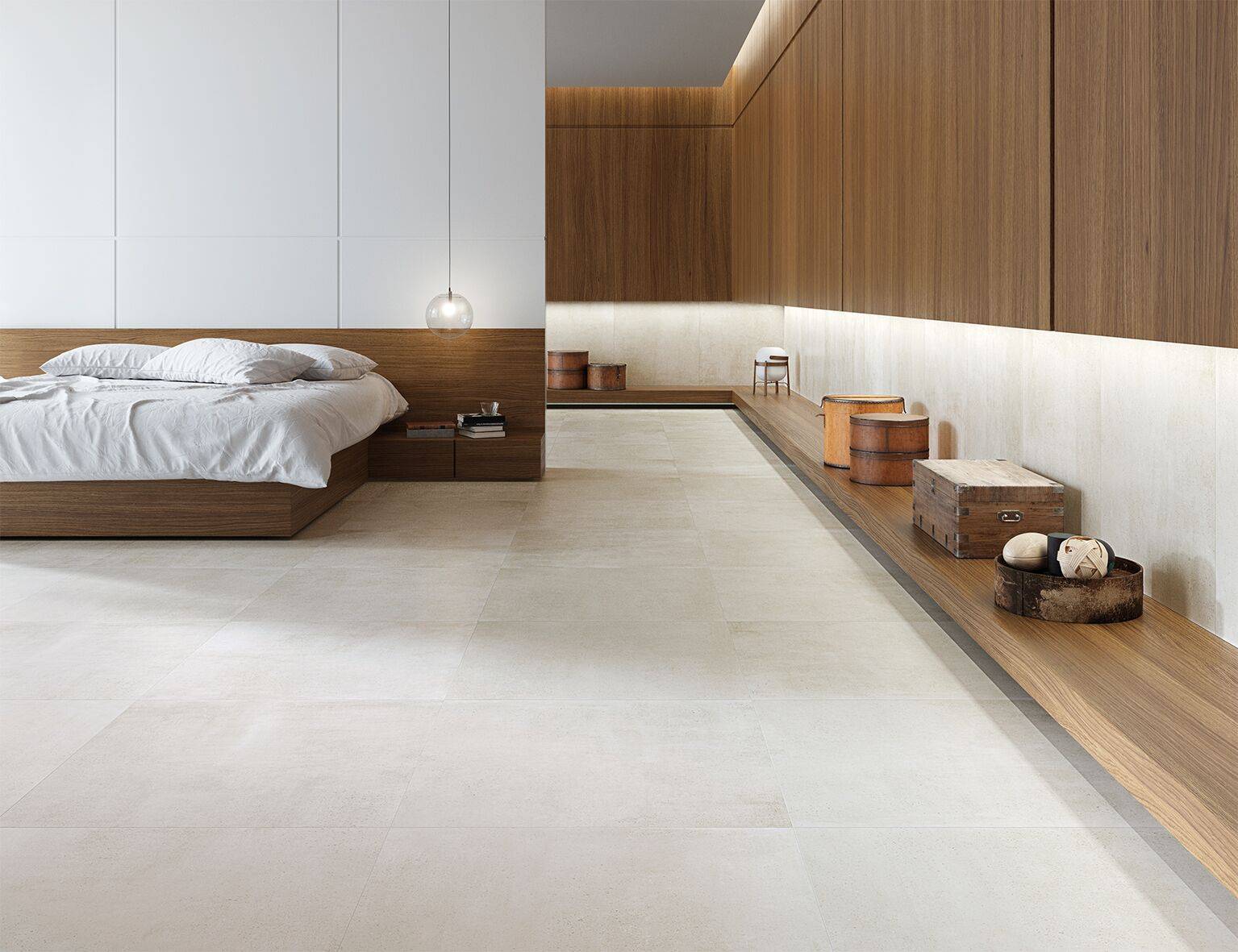 On the other hand, in the case of warm climates, blues and greys add a fresh touch. Remember what we said not long ago about blues: "Shades of blue attract the light whilst white projects it. That's why it is essential to find the right balance between the two and design a space that skilfully combines both tones."