Flooring for open-plan kitchens. What fits in best with open-space concepts?
New life styles and trends have played a key role in new concepts in home design. Open-plan homes incorporate different living spaces in one big area, giving priority to transparency. This unpretentious type of architecture seeks one clear goal: to provide a comfortable easily accessible domestic setting. Even so, we should not forget that each area will have its own distinctive features: a terrace is not the same as a bathroom or kitchen. The flooring we choose in each case will play a decisive role in ensuring a functional truly dynamic home, maintaining a certain unity while also separating each area of the home without using walls.
12 September 2018
What flooring can be found in open-space kitchens?
"Ceramic rugs"
These differentiate the kitchen from the living or dining area. A floor combining pale and dark colours is perfect for transit areas of the kitchen. It is also much easier to clean due to its dark colours or combination of shades. This example from the Remake collection by Keraben separates the kitchen area by using a modern-looking subtle checkerboard design.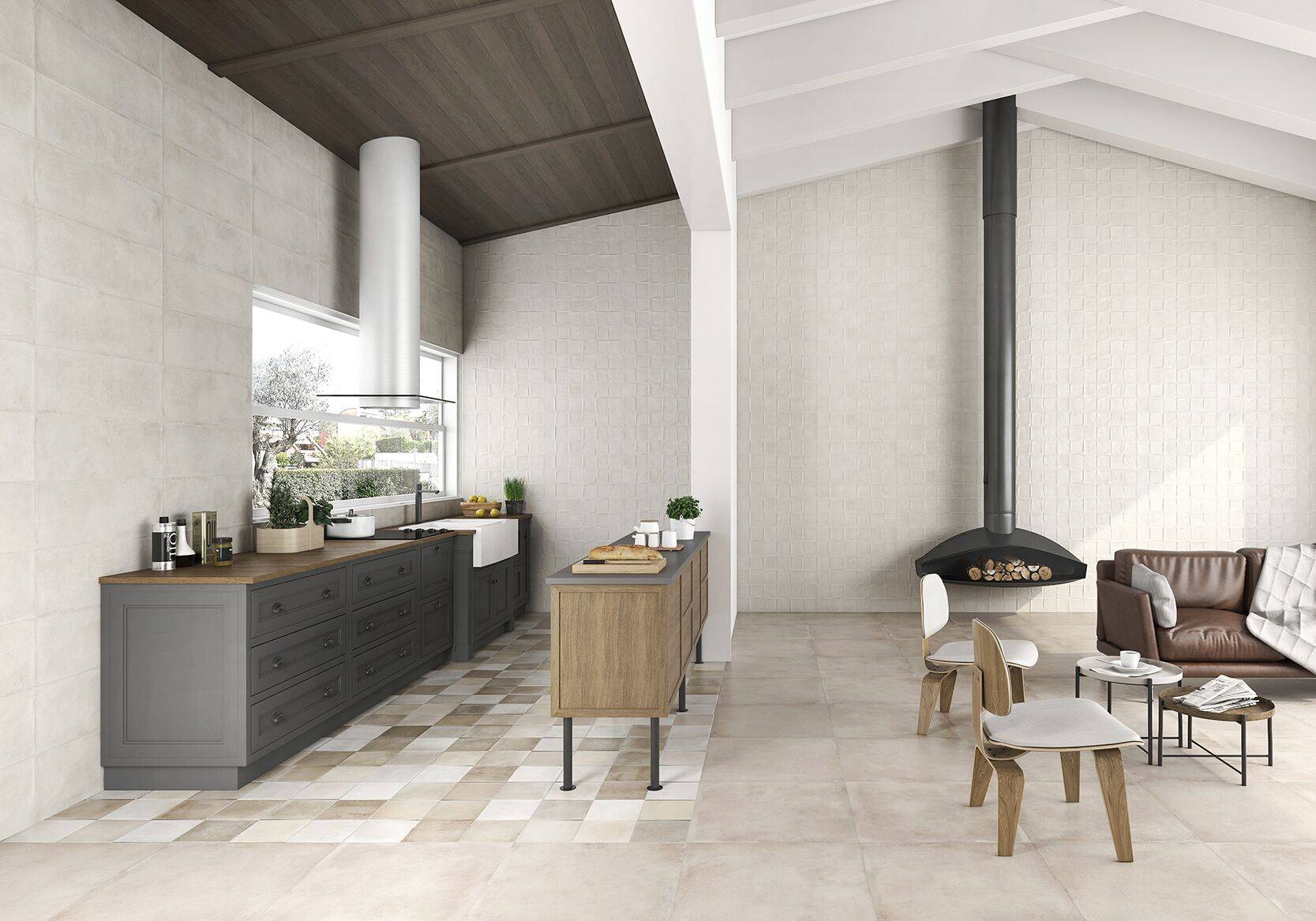 Distinctive tiles
In this case, the aim is to demarcate where one area begins and the other comes to an end. A brilliant way of differentiating the kitchen area in open-plan homes is either to use warm-looking floor tiles in different colours or to opt for contrasting shades. In this example, we have used two collections by Keraben: Nature and Madeira. Both are very similar in colour and they also fit in with the colour spectrum of the wall tiles. The electrical appliances, countertop and chairs add a contrasting note, clearly separating this small but well-distributed space.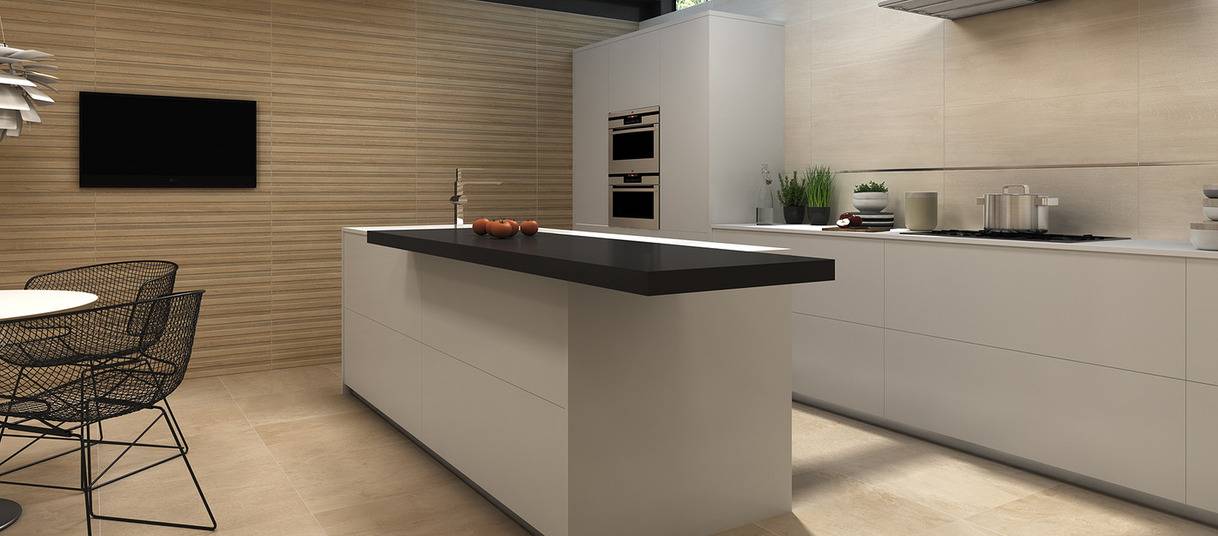 Continuity
With this kind of open-space kitchen, the aim is to make it unique but cohesive. This is a part of the home onto which other areas open and so the flooring can be used as a perfect linking thread. By extending the flooring into the kitchen, small kitchens will seem much bigger because they borrow space from other areas and vice versa. This kind of flooring is ideal for kitchens in L-shape areas or else divided by a low wall or columns. An example of a kitchen with this kind of continuity is shown below, using the Loussiana collection by Metropol.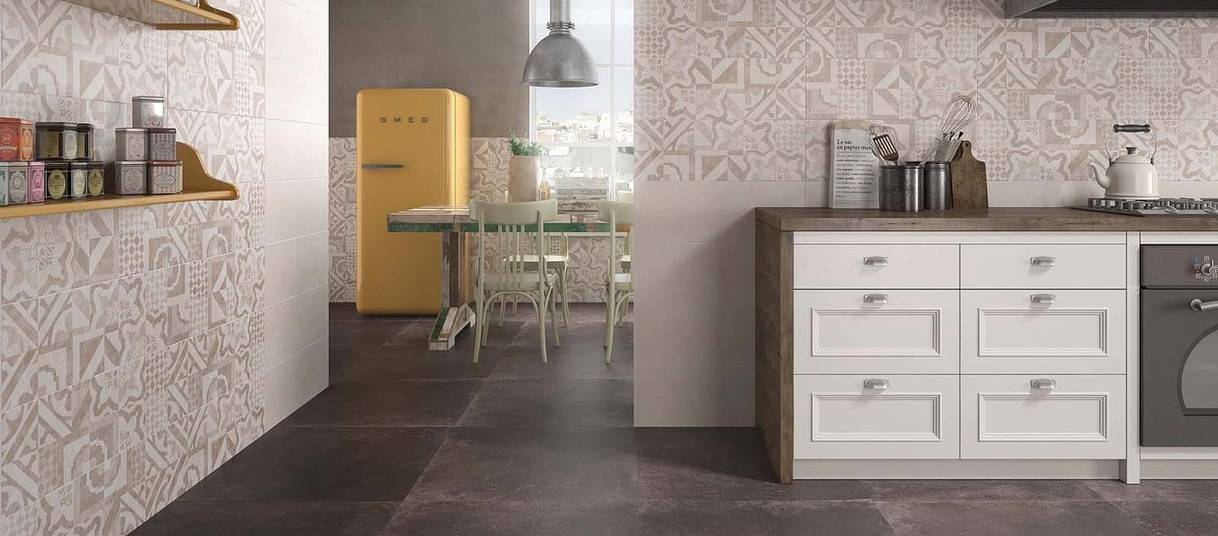 Textiles
An eye-catching option but perhaps a less practical one. In kitchens textiles tend to get stained and because they are porous, they absorb odours. Having said this, they are a brilliant way of zoning different areas and they can be changed each season. They are not a good idea, though, when the kitchen leads outdoors (onto a garden or terrace, for instance).
A rug can help to demarcate the eating area or actual kitchen. We recommend a ceramic rug, as pointed out earlier, because it fulfils the same function as a real one but it is non-porous.
Shown below is a magnificent example from the Wood66 collection by Metropol. The black textile rug demarcates the dining area while also concealing any stains. The rug stands out against the wood-effect flooring and softens the light that comes in through the big windows.