Trends from past and present: some things never go out of fashion
We take a look at some of the most popular interior design trends of the past and analyse how they have been revamped right into the present.

22 May 2019
How many times have we heard our mothers say that "trends always come back into fashion"? Indeed, interior design is much like the fashion industry in that past trends fuse with the hottest new looks. We will shortly be celebrating Mother's Day, so it's high time we admitted just how wise our mothers were. In this post, we take a look at some of the trends of the past that are still around today, albeit in a new, revamped version, giving our homes an exciting new look.

Check out these 5 well-known features that have really never gone out of fashion
1. Parquet or wooden flooring
There was a time when everyone aspired to installing wooden flooring in their homes, regardless of the climate they lived in. It's true that wood keeps the temperature, but above all it is acclaimed for its beauty.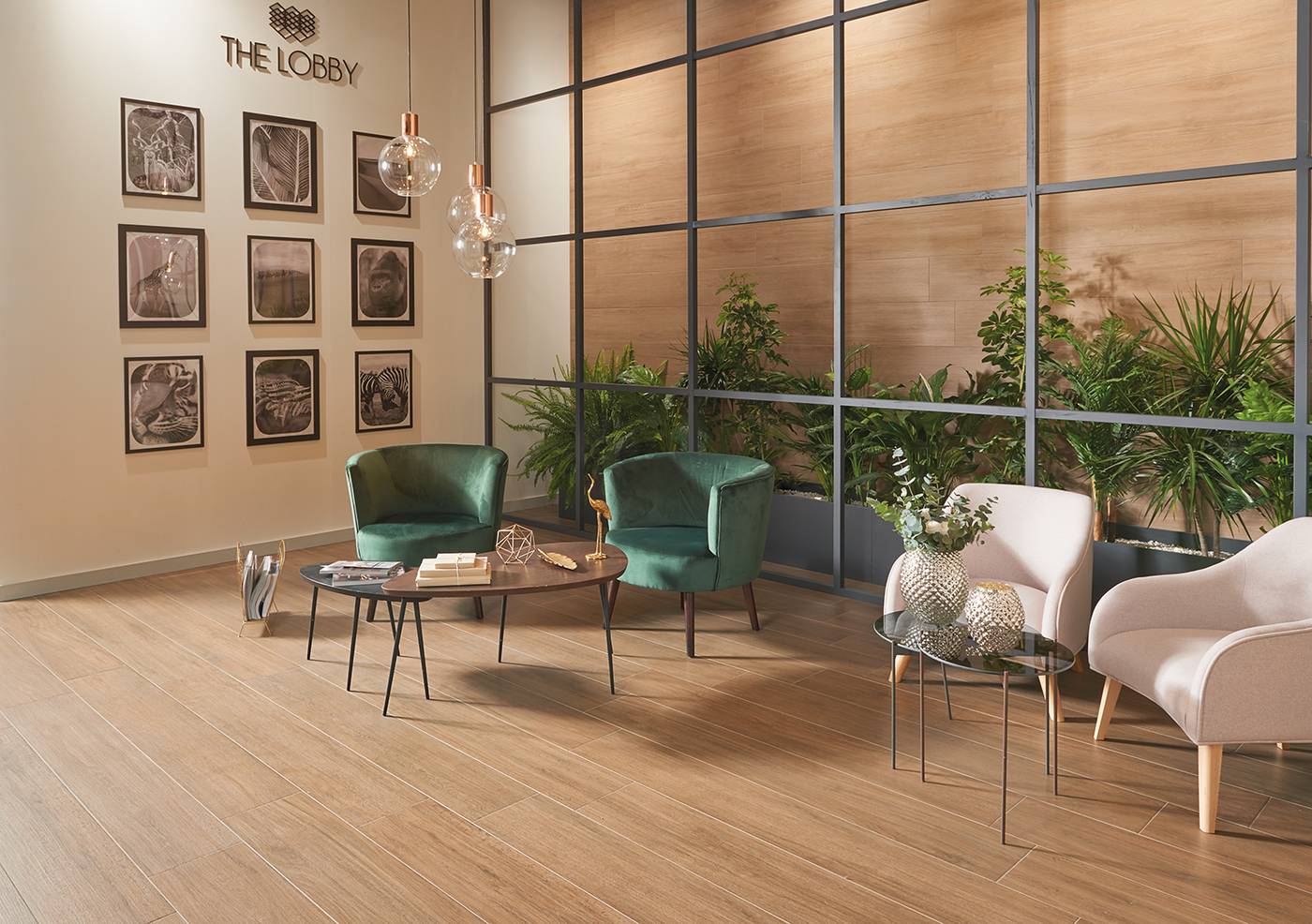 - PAST: Natural wood parquet adds to the sense of warmth in the home, and has therefore traditionally been used in more formal, elegant homes. Older homes tend to feature wider boards with a herringbone pattern.

- PRESENT: Laying this type of flooring is a complex task, and it is also high maintenance. As a result, the market has moved towards wood-effect porcelain tiles with finishes that are increasingly realistic.

Tip: Today, wood-effect ceramic tiles are a much-appreciated option, not just for their appearance, inspired by nature, but also due to their resistance and technology. An example is Romance by Keraben which is not only an accurate recreation of Scotch elm wood featuring patterns and a sense of movement, but also comes in two superb finishes: natural and antislip.
2. White kitchens and bathrooms

Lo que antes era un requisito, ahora se ha convertido en una opción, pero eso no significa que sea un error apostar todo al blanco.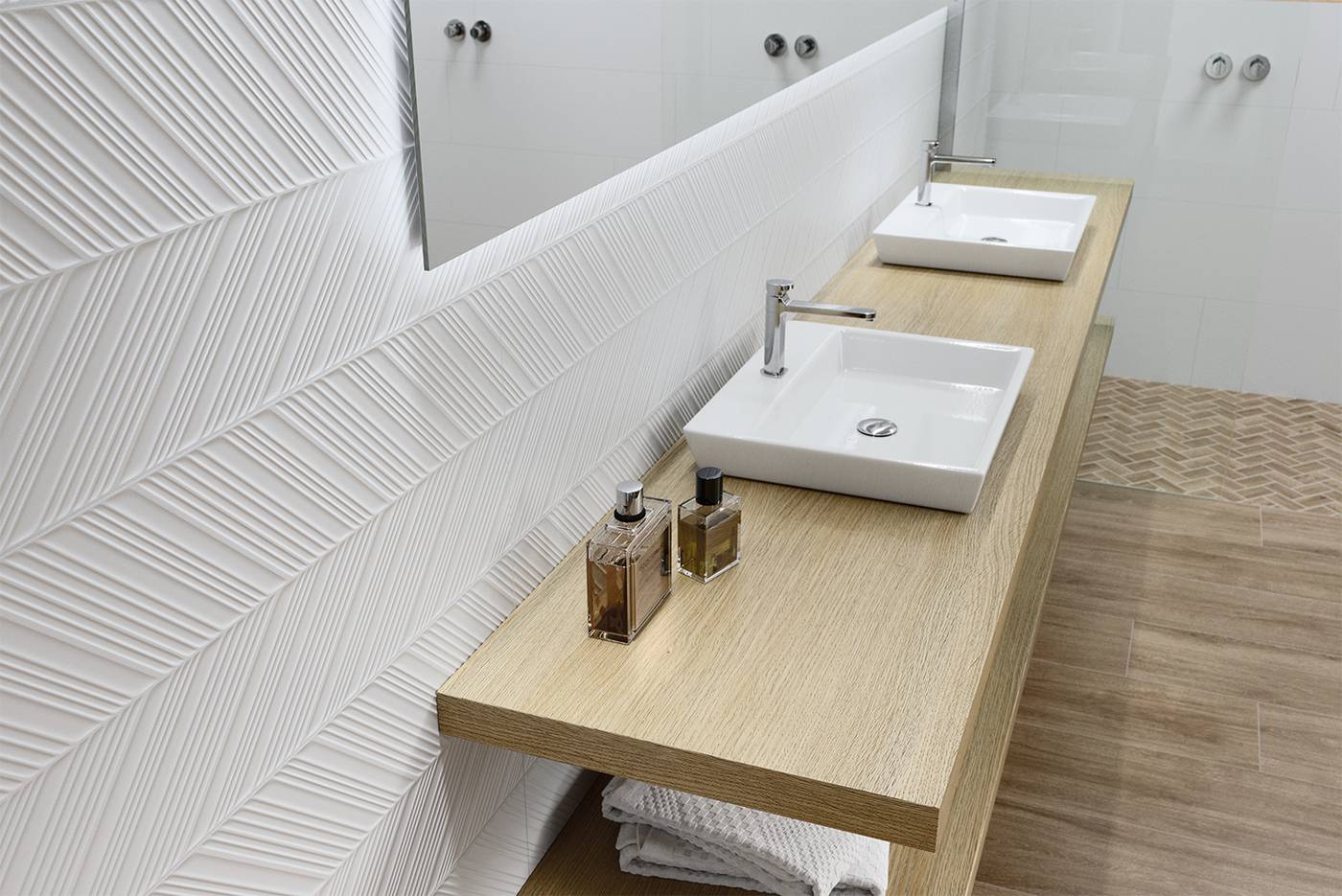 - PAST: This colour is a classic for kitchens and bathrooms due to the spaciousness and cleanliness it transmits, as well as its outstanding resistance to all uses. What's more, the sense of balance and harmony is enhanced when combined with soft tones and silky textures.

- PRESENT: White continues to feature in all the most important rooms in the home, although now it offers better performance than ever. Collections such as Superwhite by Keraben not only offer the whitest of whites on the market, but also include cutting-edge technology for improved resistance and truly easy cleaning.

Tip: White is also renowned for its versatility, and is therefore increasingly used in combination with other colours. It is the perfect match for pastel and neutral tones that create relaxing settings, but also looks great when used with black and bold tones for a strikingly contrasting effect.
3. Large items of furniture
From fireplaces in the sitting room to outsize sofas, floor-to-ceiling curtains, chandeliers or that wrought iron bed from your grandparents' house.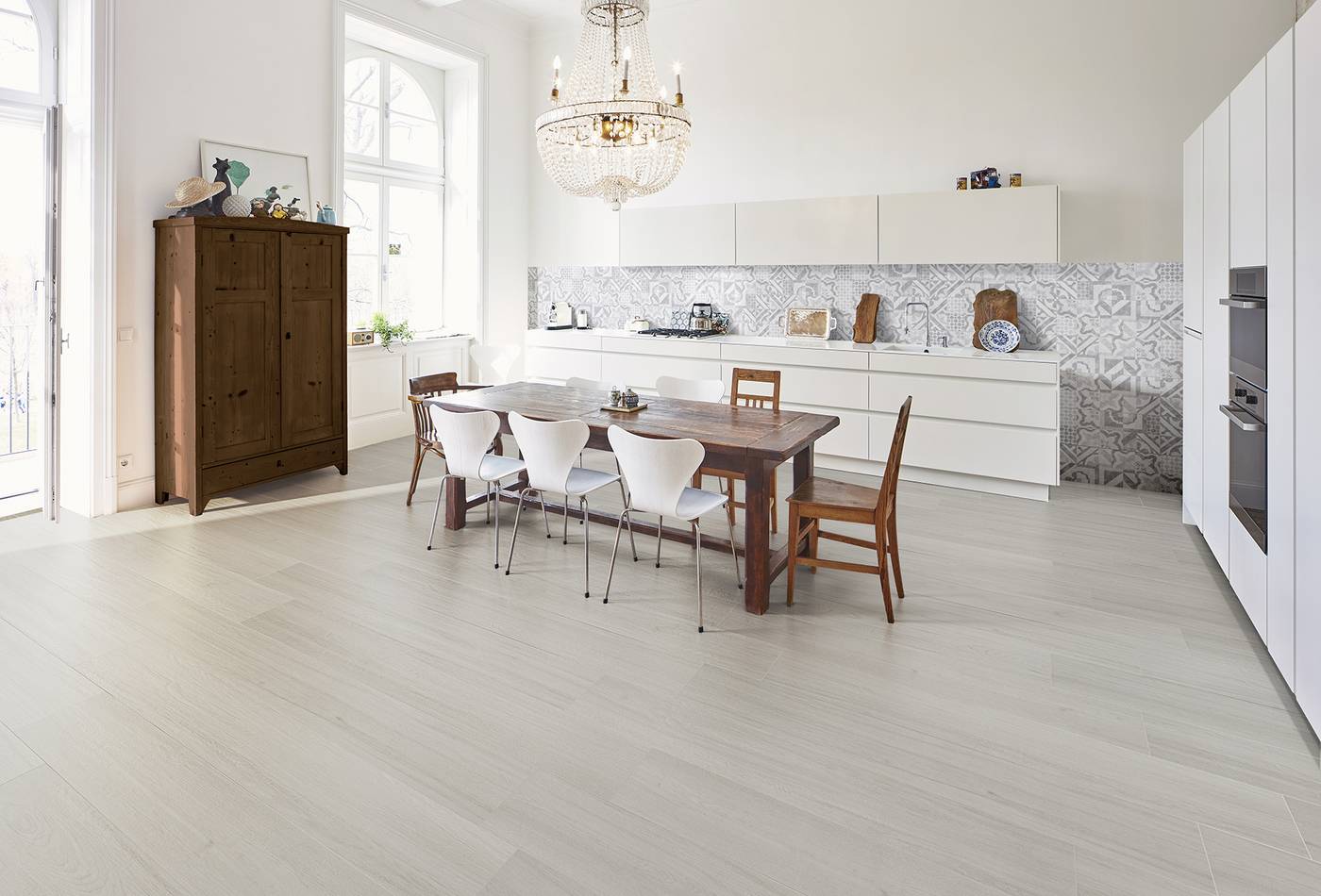 - PAST: It may seem a trend of the distant past, but large furniture was the norm in the homes of just a few decades ago. Huge bookcases and chests of drawers dominated various spaces in the home in order to avoid that much-feared "sense of emptiness".

- PRESENT: Over the years, a leaning towards minimalism has considerably reduced the size of furniture in the home. Scandi style became popular, based on the notion of "less is more", seeking to create a sense of spaciousness and a greater connection between rooms.
Tip: Does that mean we should do away with that Bohemia crystal lamp, a treasured family heirloom? The truth is that when used tastefully and in moderation, antiques can create eye-catching contrasts in contemporary spaces.


4. Stucco or the natural evolution towards relief textures
- PAST: Many modern-day renovation projects have done away with stuccowork in homes, as smooth walls are easier to paint and add to the sense of space, but does this mean that relief textures should be banished to the past?

- PRESENT: Relief effects conceal imperfections and can create truly stunning effects when used in moderation. Yet it is no longer necessary to resort to the use of stucco paint: porcelain tiles for walls and floors come in myriad styles and are maintenance-free.

Tip: When creating relief effects, the trick is to be bold but without overdoing it, taking into consideration the nature and size of each room. Limit their use to just a few rooms in the home, or combine smooth and textured walls in a single space.
5. Mouldings
Let's take a look at this relief element which is installed lengthways along ceilings and walls and is usually made of materials such as wood or plaster.

- PAST: Mouldings are a traditional feature in modernist homes, adding a classic and noble air. They are used in conjunction with high ceilings and reduce the sense of emptiness. They tend to be large and geometrical in shape.

- PRESENT: Although they are not a common feature of contemporary homes, these elements are well worth considering. An added advantage is that they can be installed at any time. In fact, today we can find decorative plastic mouldings that are simple to fit and remove.

Tip: Don't be afraid of adding this type of relief features. They conceal imperfections and are great decorative options, even for walls, where they can be painted in different colours. Another great option is to combine classic mouldings with contemporary furniture.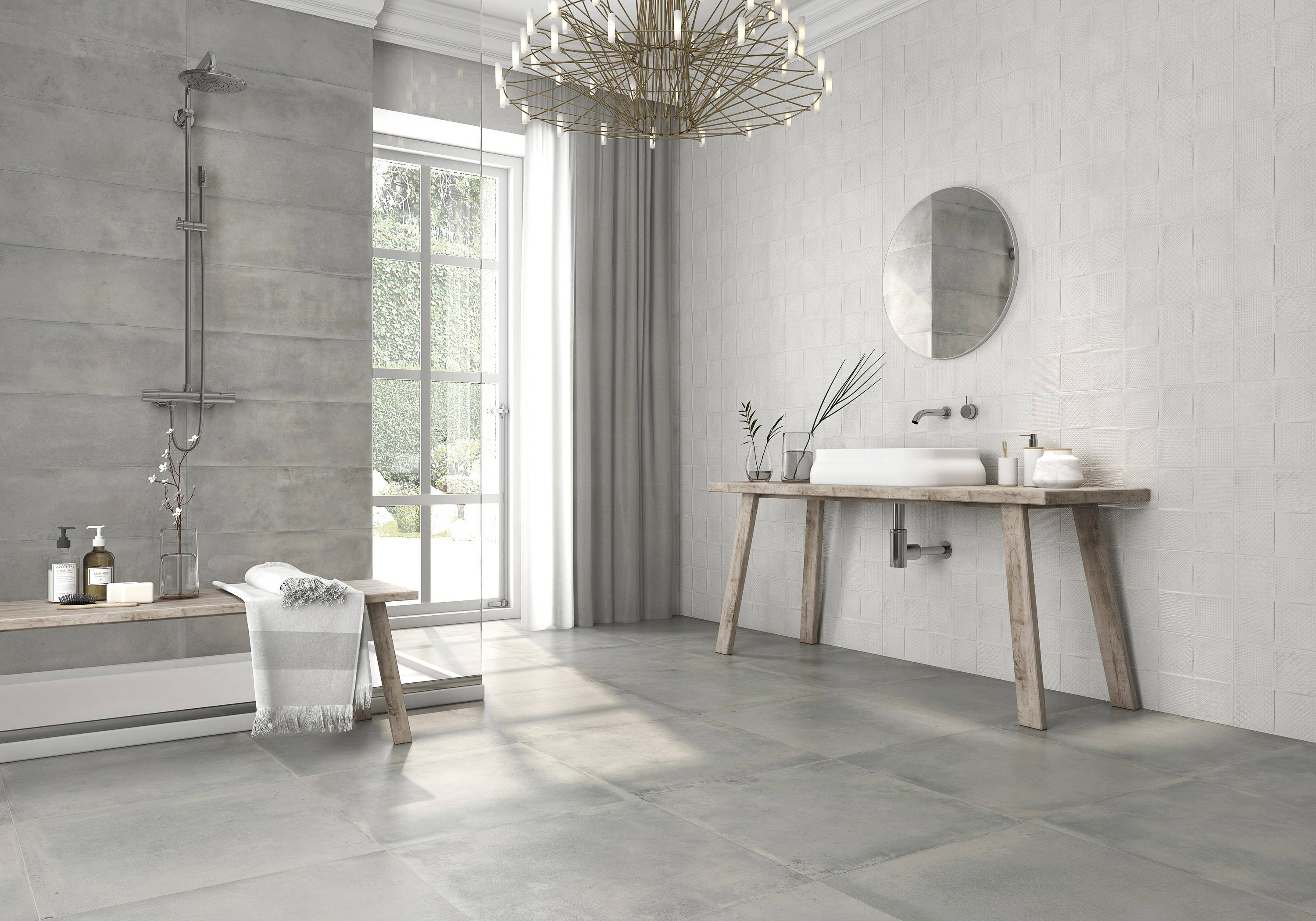 We are what we were, and the past has a habit of coming a full circle precisely to remind us of this. The same is true of interior design, where the trends of previous years lay the foundations for the future. Delving into the past and adapting them is a great way of enhancing the beauty of your home.