7 Décor Ideas for Modern Bathrooms
22 February 2023
The bathroom is one of the most important rooms in the house. It is the place where you refresh and recover after a long day. Therefore, in addition to being functional, modern bathrooms must also be attractive and relaxing.
In recent years, bathroom décor has evolved and many trends can help you create a more welcoming and renovated space. In this article, we present you with 7 décor ideas for modern bathrooms.
1. Add a decorative ladder to your bathroom
If you want to add elegance and originality to your bathroom, follow the bathroom designers of this rural refuge in Palma de Mallorca and incorporate a decorative wooden staircase. You can use it to hang towels and other toiletries or simply as a decorative element.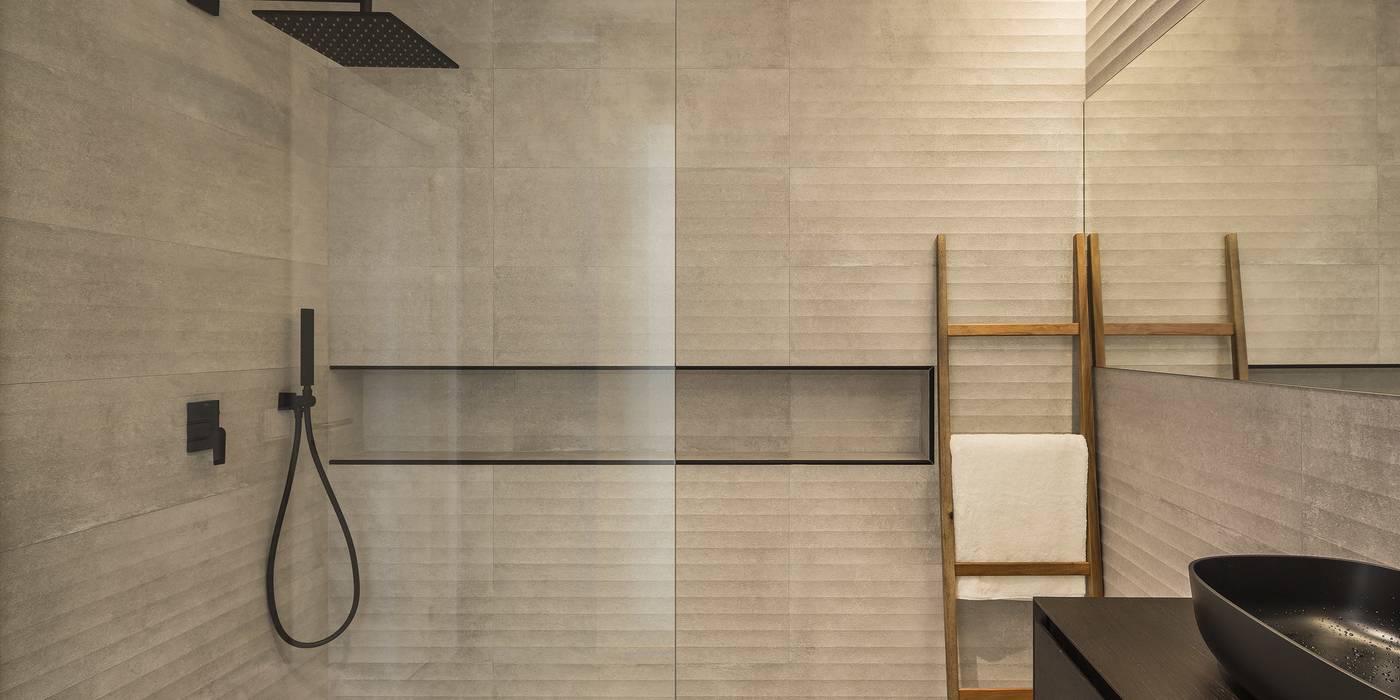 2. Maintain the chromatic coherence to expand the space
Using a consistent color palette is a great way to visually expand the space in your bathroom. It is important to choose a combination of colors that complement each other and are easy on the eye.
For example, white and neutral colors, such as grey, are excellent options to create a bright and spacious environment, as is the case in this bathroom in Mallorca, where Terranova Gris wall and floor tiles have been used to give continuity and expand space.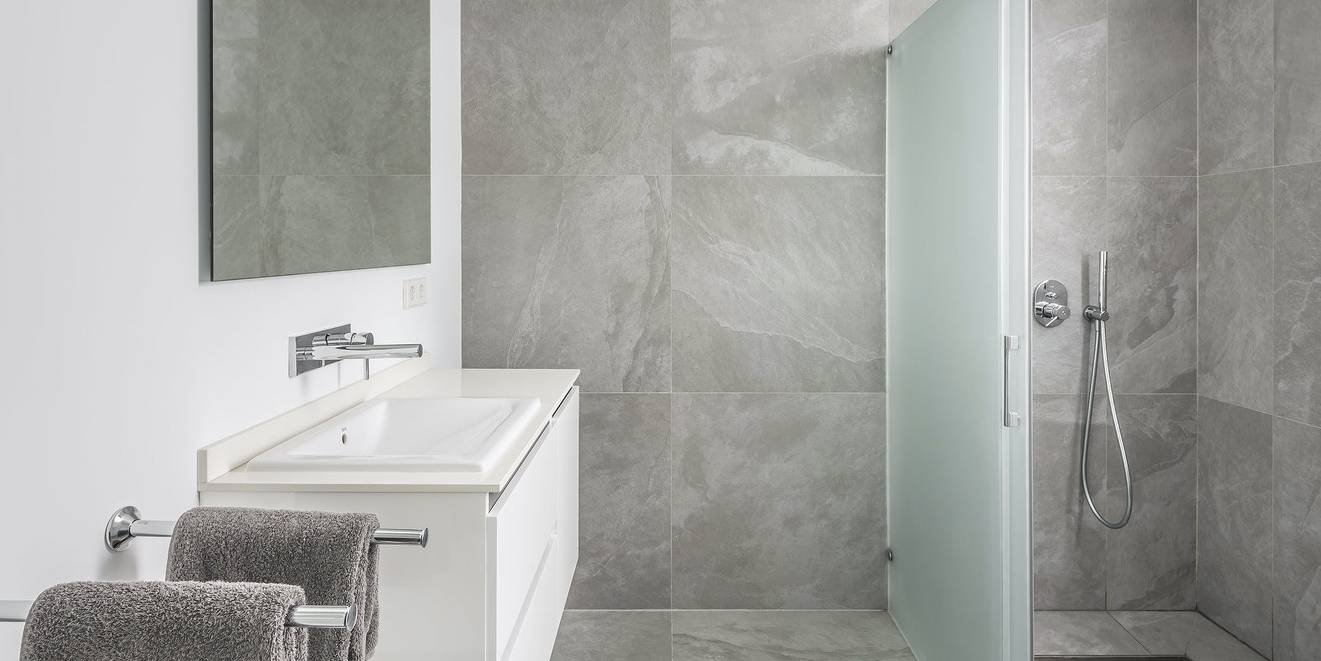 3. Take advantage of symmetry in shared bathrooms
Symmetry is an essential décor resource when it comes to a bathroom for two. In the house on the cliff in Mallorca, this resource has been taken into account to create a harmonious and orderly environment. Using the same arrangement of elements on both sides allows you to achieve cohesion and balance in the bathroom. In addition, it allows you to make the most of the space and have everything you need at hand.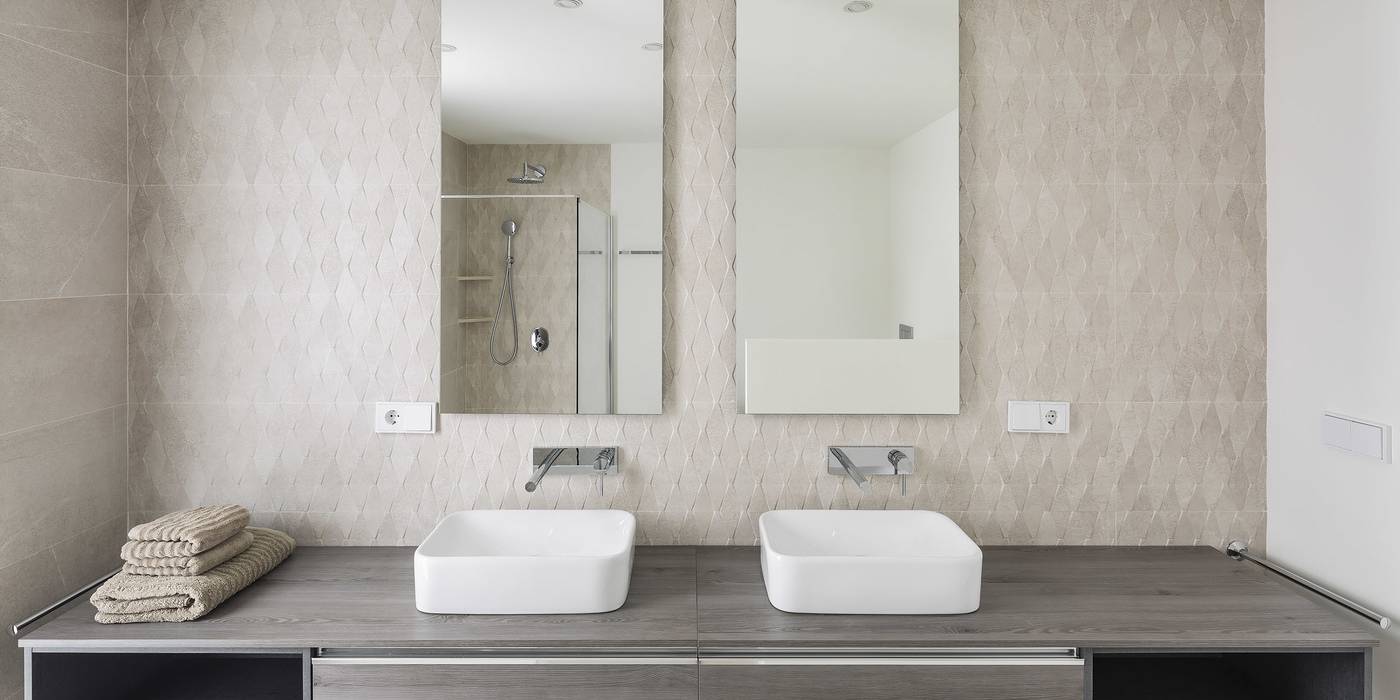 4. Take risks and mix materials and textures
Mixing materials and textures can be an effective way to add personality and modernity to bathrooms.
For example, in this other bathroom in the house on the cliff in Mallorca, the copper color from the Leeds collection by Ibero has been mixed with the wood of the furniture and the ceramic floor.
This will let you create a unique and stylish environment. You can achieve a cohesive and pleasant combination by seeking the balance between all the elements.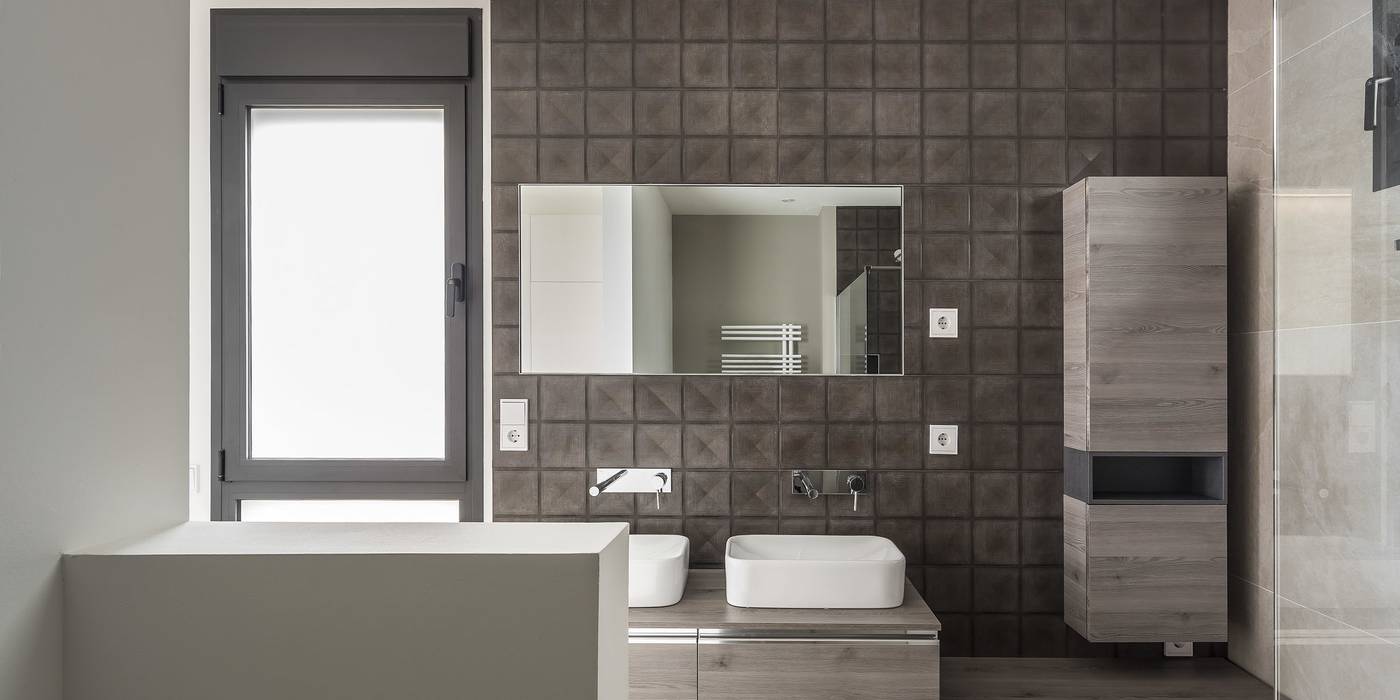 5. Do not forget to add natural elements
Natural décor is in vogue. Adding natural elements to the bathroom can be an interesting way to create a fresh and welcoming space. This was taken into account for the wall coating in the rural refuge of Tramuntana, where the In Time collection, by Ibero—inspired by natural stone—was used.
The use of a wall coating inspired by wood or stone, in addition to providing texture, gives warmth to the space. Plants or flowers can also be used to incorporate naturalness into the bathroom.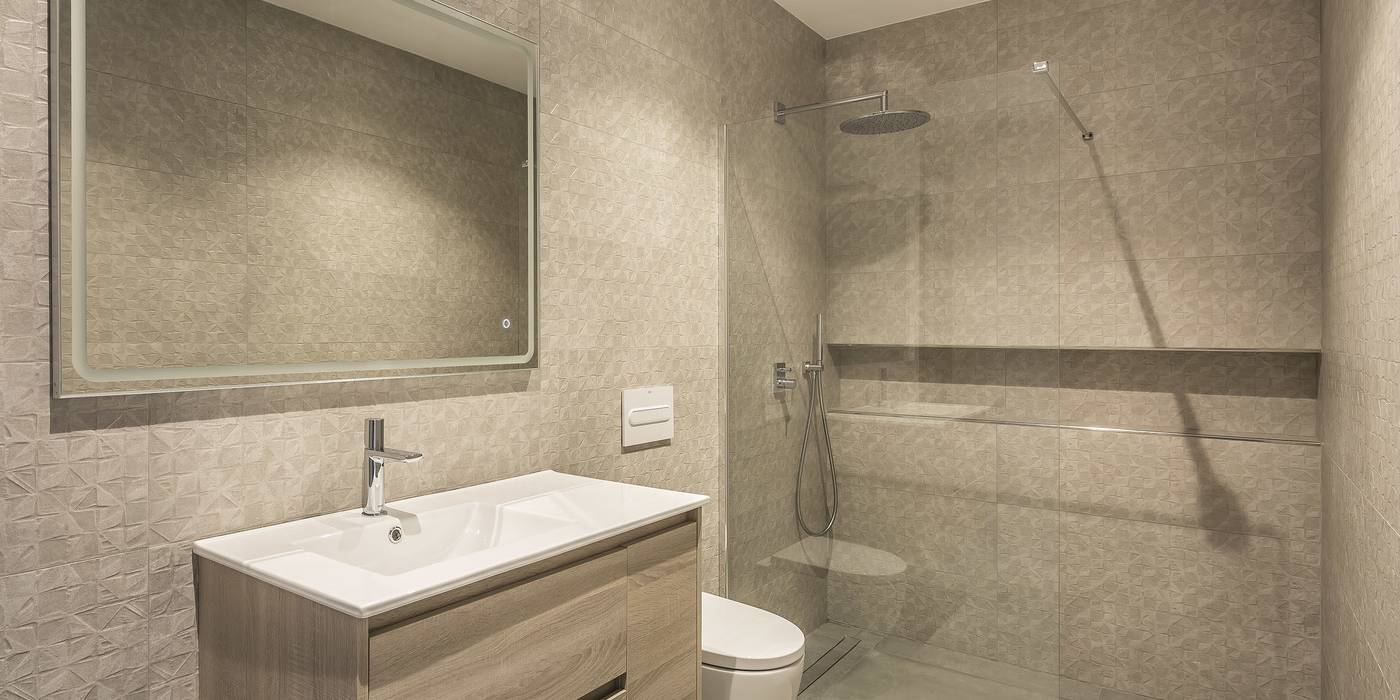 6. Create a cozy atmosphere through lighting
Lighting is key to creating a cozy and functional environment in the bathroom. Using different types of lights, as is the case in this house in Valencia, can achieve a unique effect. You can also add LED lights or color-changing lights to add a touch of fun to the bathroom. Do not forget to carefully plan the lighting in your bathroom so that it is harmonious and effective.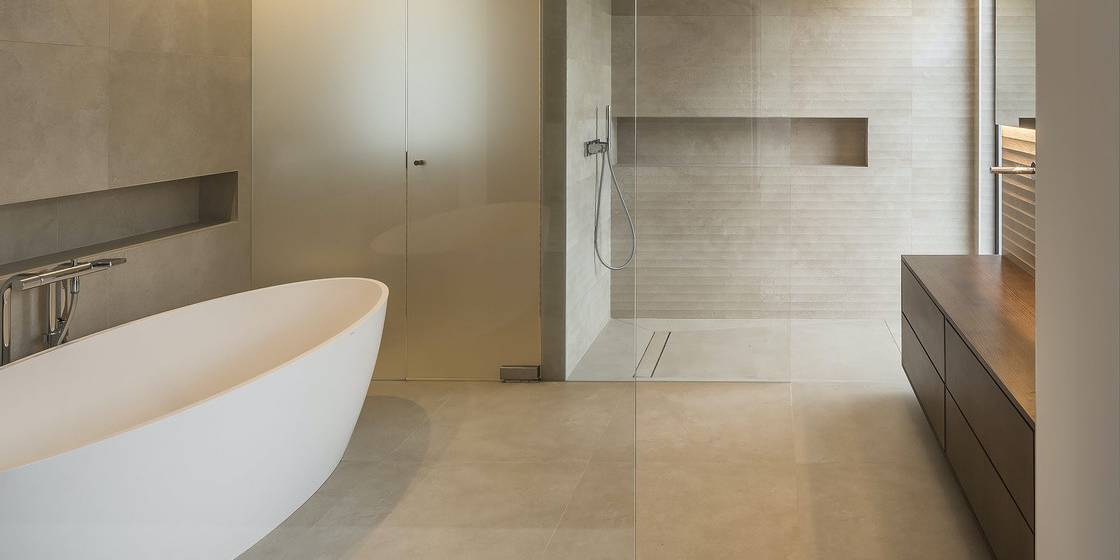 7. Benefit from natural light with a large window
Incorporating a large window into the bathroom can be an effective way to take advantage of natural light, in addition to visually expanding the space. In this bathroom in Valencia, this was achieved with a window that connects the interior and exterior of the house. One way to control the amount of light and privacy as needed is to incorporate curtains or blinds.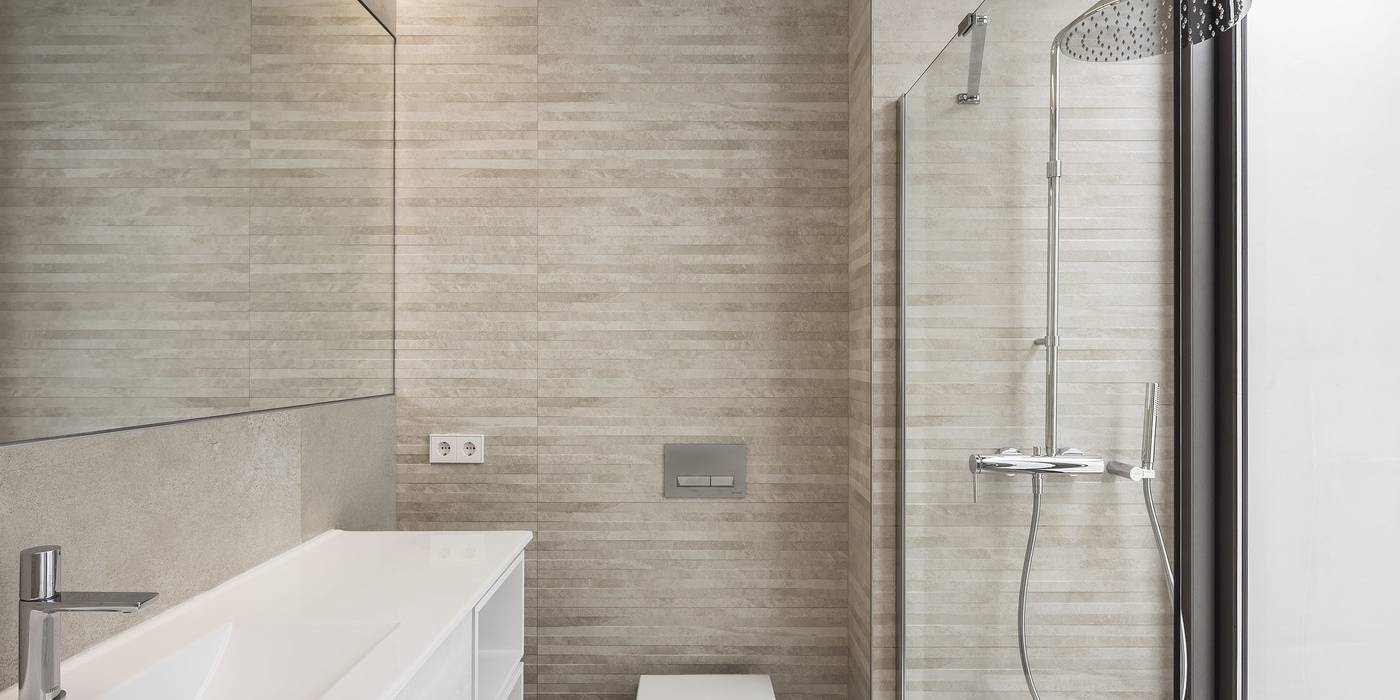 We hope that the 7 ideas proposed in this article help you achieve the modern, elegant and cozy bathroom that your home needs.
But remember: you must choose elements that suit your tastes and reflect your unique style. By applying these ideas, you will be able to create a modern, functional bathroom—a much-needed refuge after a long day.