Industrial décor: why it is is taking decorators by storm
1 July 2022
Industrial décor is in vogue once again, as well it should be. We love its avant-garde feel and its personality. If you are passionate about this style, which treads the line between vintage and modern flavors, keep reading. In this article, we will tell you everything about industrial-style décor.
What is the industrial style?
What characterizes the industrial style in décor is a call-back to the old New York factories where it began. Its neutrality in tones, from grey, to black, white or brown, is no obstacle to its powerful personality and authenticity.
As for the materials, wood, steel, iron, brick, concrete and leather stand out. But, without a doubt, if there is one thing that characterizes this style, it is that it reveals the depths of each room. All of the bricks, beams and imperfections are on full display, filling each room with character.
The origins of the industrial style
This style has its origins in New York City in the 1950s. A time when many factories began to close down and become homes. This is why the style has so many esthetic features that remind us of the famous New York lofts.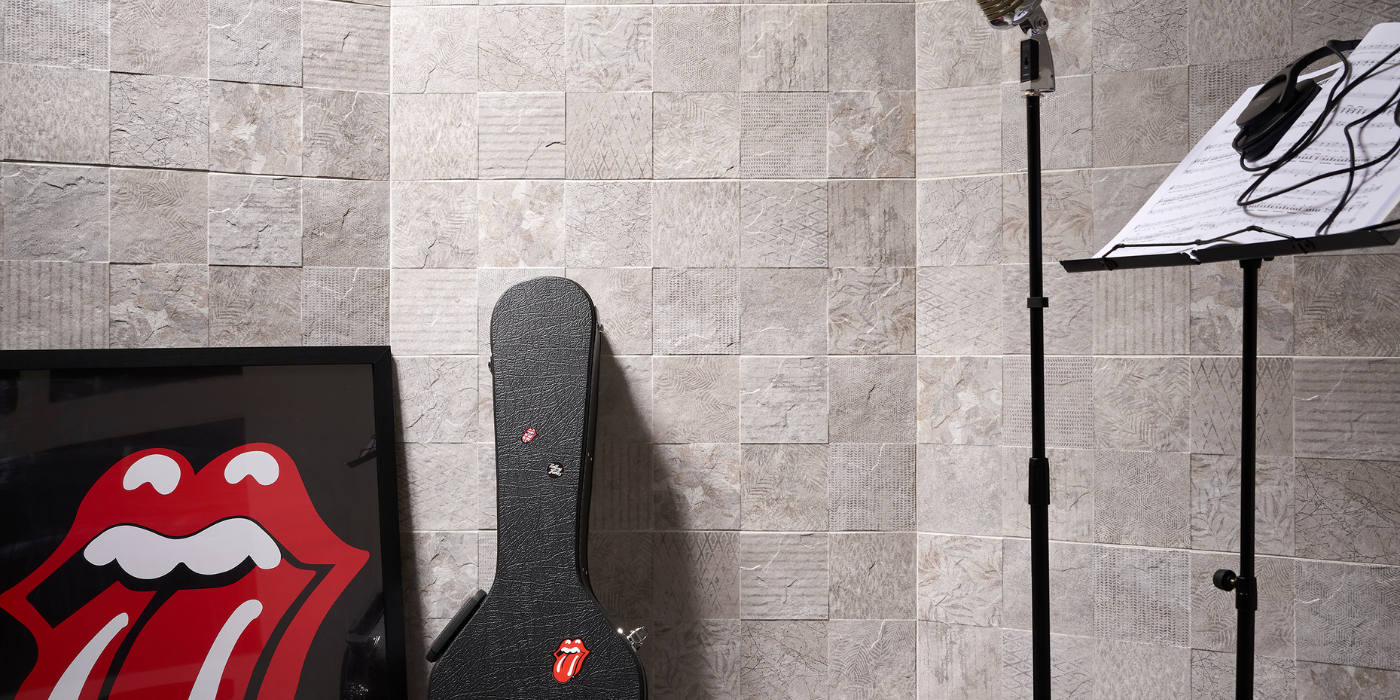 Iconic Concept Grey by Metropol
The keys to the industrial style
1. The materials
Wood is one of the most used materials in the industrial style. However, if there is one material that stands out above all others, it is metal. In its different varieties, metal is present in every corner of industrial-style décor: from furniture to wall coverings.

Iconic Concept Avorio by Metropol
But we must not overlook other materials that make this style unique, such as leather or exposed brick. Their use generates the perfect balance with the apparent coldness of metal, bringing warmth to the space.
2. The lighting
In addition to the light that they bring to the environment, which must be as bright as possible, the lamps have a strong impact on the industrial style. They can even add an industrial touch to a completely different décor.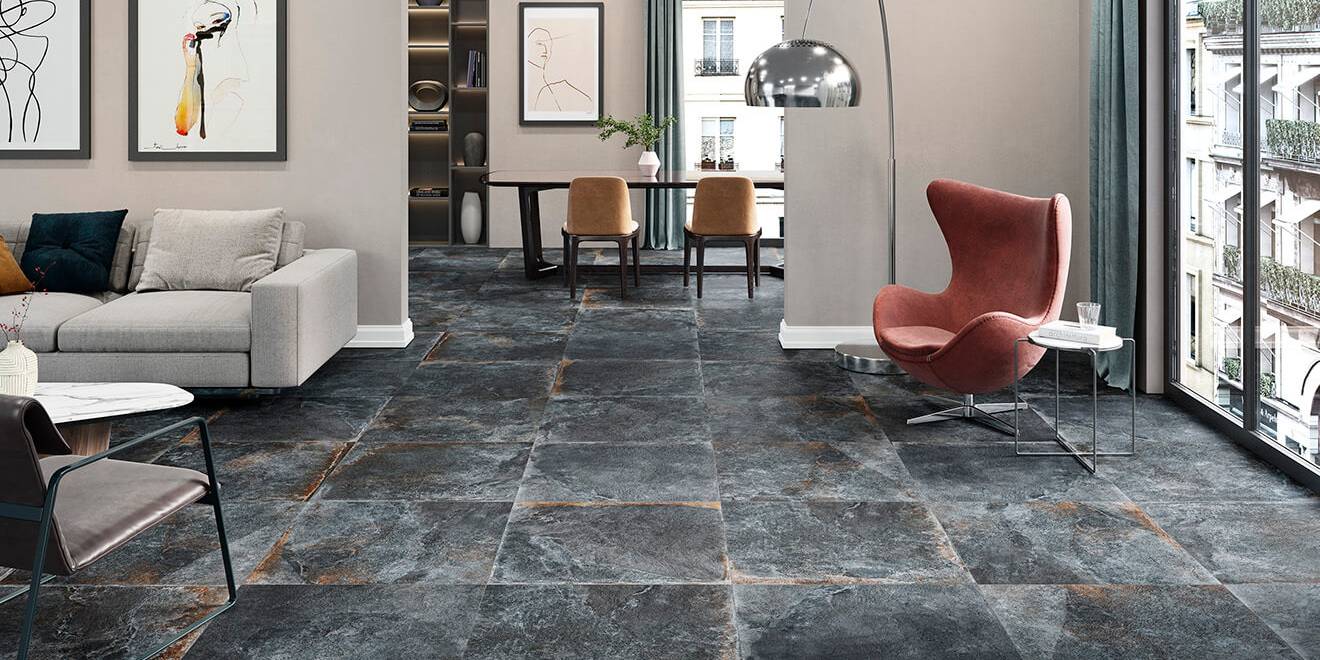 Iconic Óxido Natural by Metropol
To succeed in this direction, choose large metal lamps. As for the finishes, you can opt for the aged and rusty look, or use others that are more polished and have a more modern look. If you place these lights in a group, you will be able to give the entire room a much more industrial touch.
3. Decorative items
To put the cherry on the cake of the industrial style, we should not forget that it is one of the vintage styles. For this reason, some decorative items that we can add to a room in this style are items such as old telephones, or typewriters from the middle of the last century.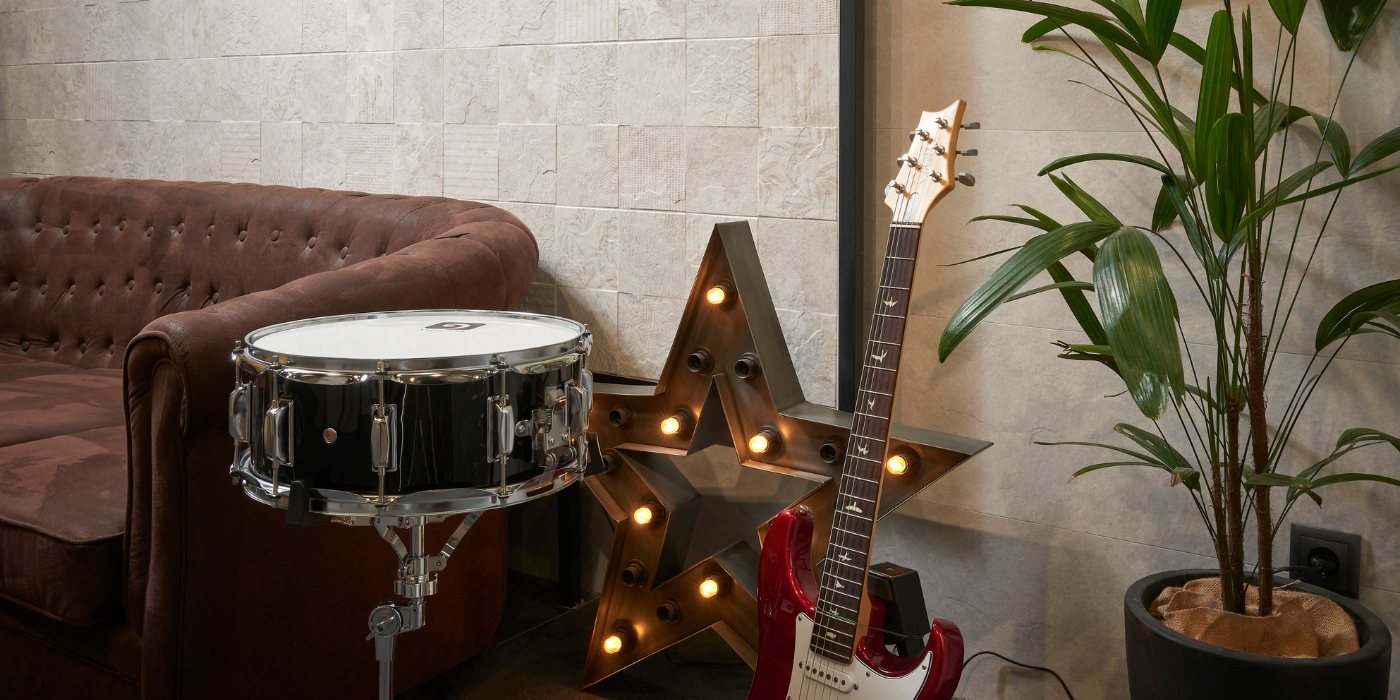 Iconic Concept Avorio by Metropol
4. The finishes
Without a doubt, if something characterizes this style, it is its finishes. Or, rather, its "unfinished" finishes. The exposed brick walls, the uncovered columns and beams or even the wiring and pipes outside the walls.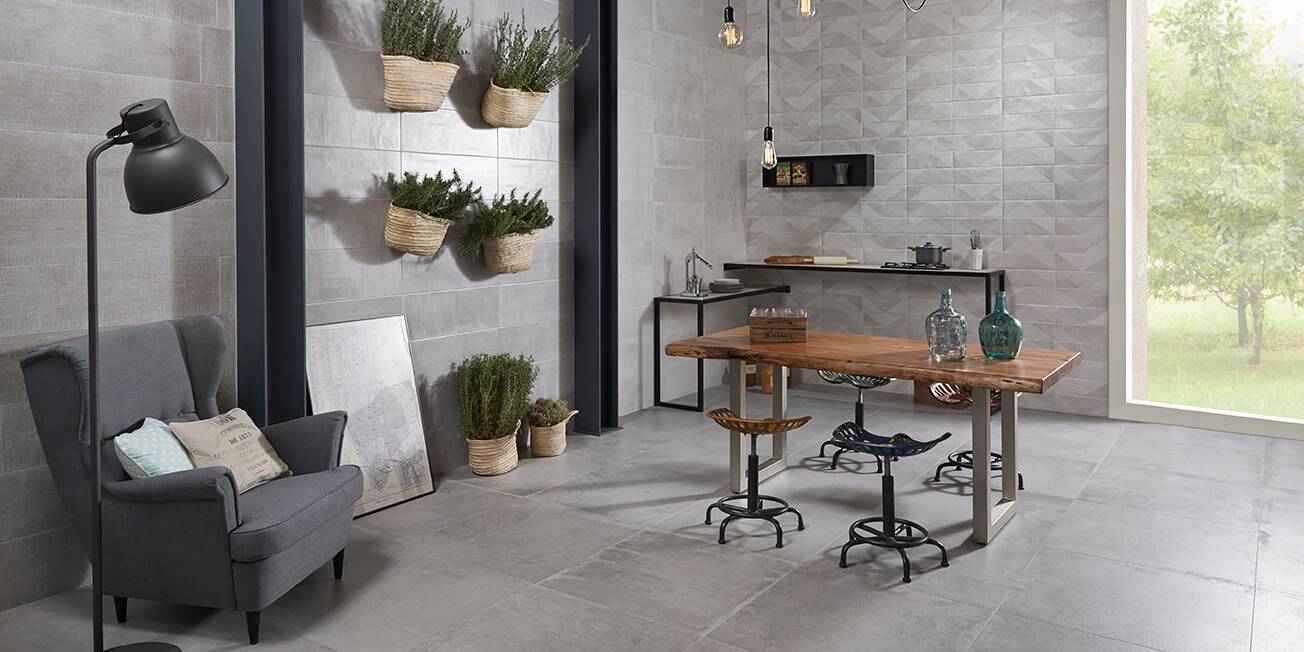 Route66 Blanco by Metropol
And, of course, over time many metallic details end up rusting. That is why rust-look finishes are also welcome in this style.
Industrial décor in living rooms
From the choice of beautiful brown leather armchairs to the black iron and wood coffee table, every detail of the room is key to generating an industrial atmosphere in every aspect of the décor.
An industrial décor room is an open-concept space, where each piece of furniture, accessory or décor item fulfills a specific esthetic function.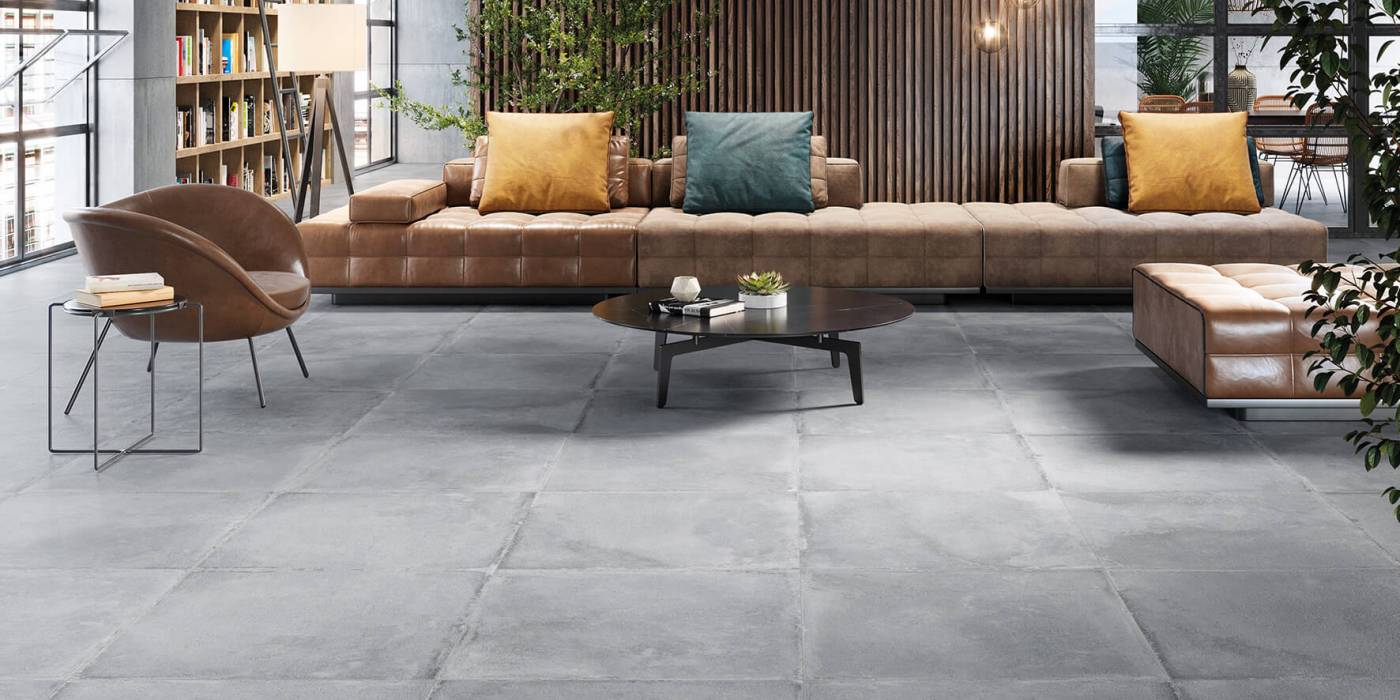 Cosmopolitan Gris by Metropol
The flooring also plays a fundamental role in industrial-style living rooms. In this sense, Metropol suggests its Cosmopolitan collection, which, with its metallic appearance, is exactly the flooring that the industrial-style living room needs.
Industrial-style kitchens
Industrial-style kitchens leave conventionalism aside. They are avant-garde and full of personality.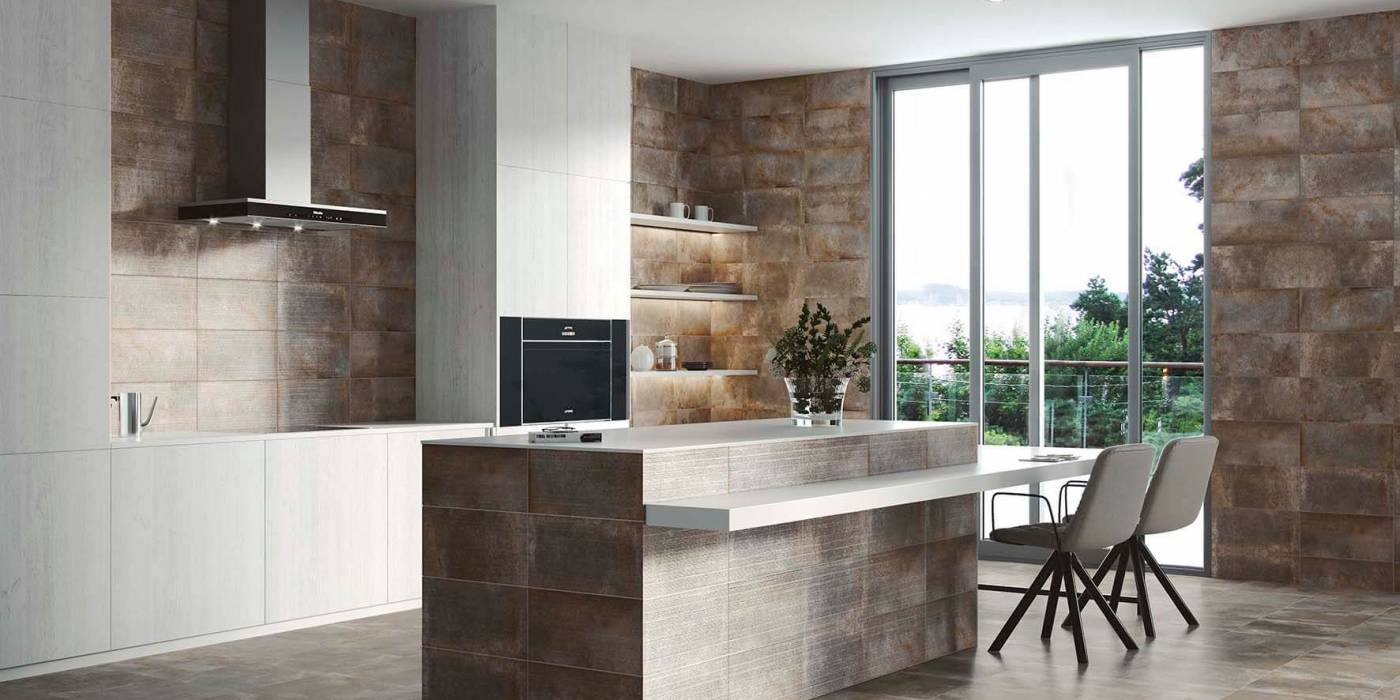 Rue de Paris Cobre by Keraben
In addition to choosing furniture in neutral tones and a countertop with a metallic look, you can go one step further with floor and wall tiles. How? The Rue de Paris collection has the answer in its Copper model. A metallic and slightly oxidized finish that will give your kitchen the final industrial touch.
Contemporary industrial bathrooms
The most modern industrial bathrooms are a combination of shades. The white of its items contrasts perfectly with the black of the metallic elements that we can find, for example, in the bathroom cabinet.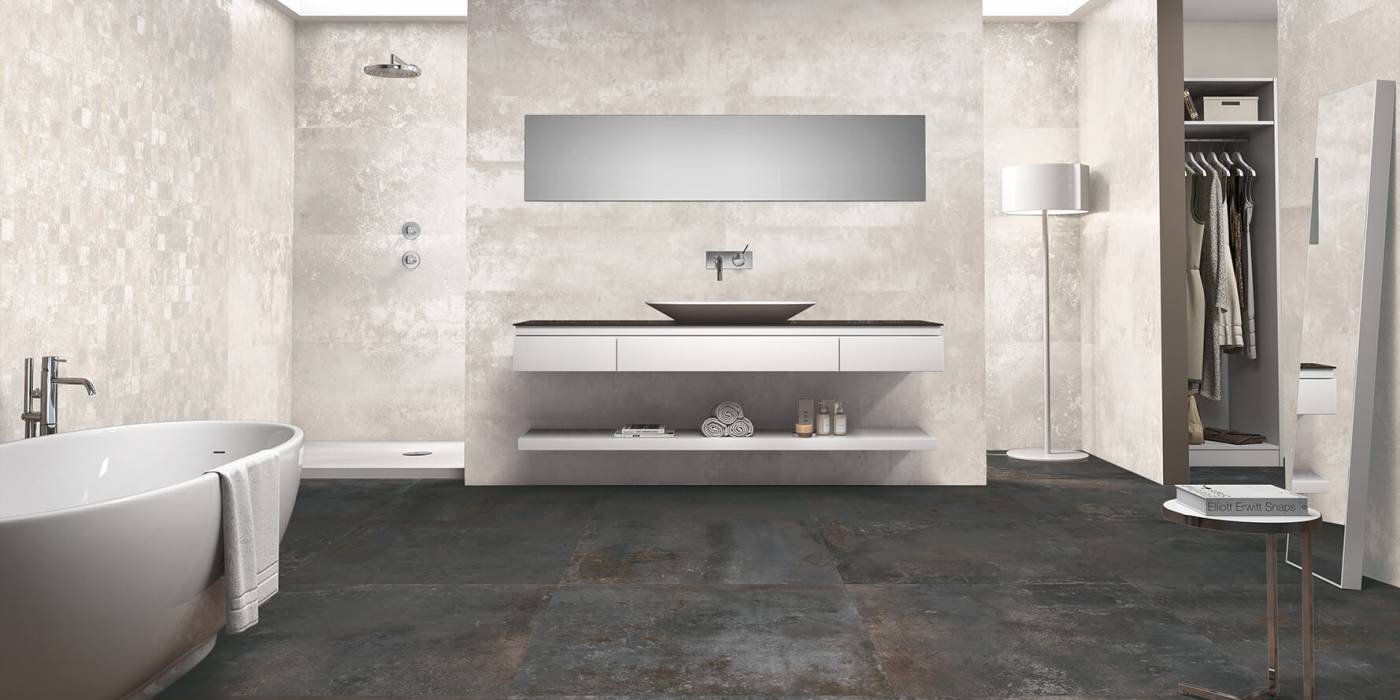 Gravity Pearl Dark by Íbero
To give a more personal touch to the bathroom, Gravity from Íbero has the ideal coating. The relief of its different shades will bring modernity to the bathroom's industrial touch.
The industrial style is back and will be here for a long time. We hope that these tips for applying it in your home will allow you to get the best out of this at-once modern and vintage style.