'How to find your décor style': The keys to achieving it, by Elena Alcón, Head of Interior Design at Keraben Group
27 January 2023
"We all need to create spaces that will become our home, are functional and well-designed."
This is what Elena Alcón, Head of Interior Design at Keraben Group, says. She reveals how she found her current décor style and gives us the keys to the "must" needed for good interior design.
After graduating in Architecture at the School of Architecture of Valencia, Elena found her true vocation in interior design, which led her to complete her studies at the School of Design of Valencia.
""I had always felt a special connection with the world of the home, interior design and décor, as well as construction and DIY."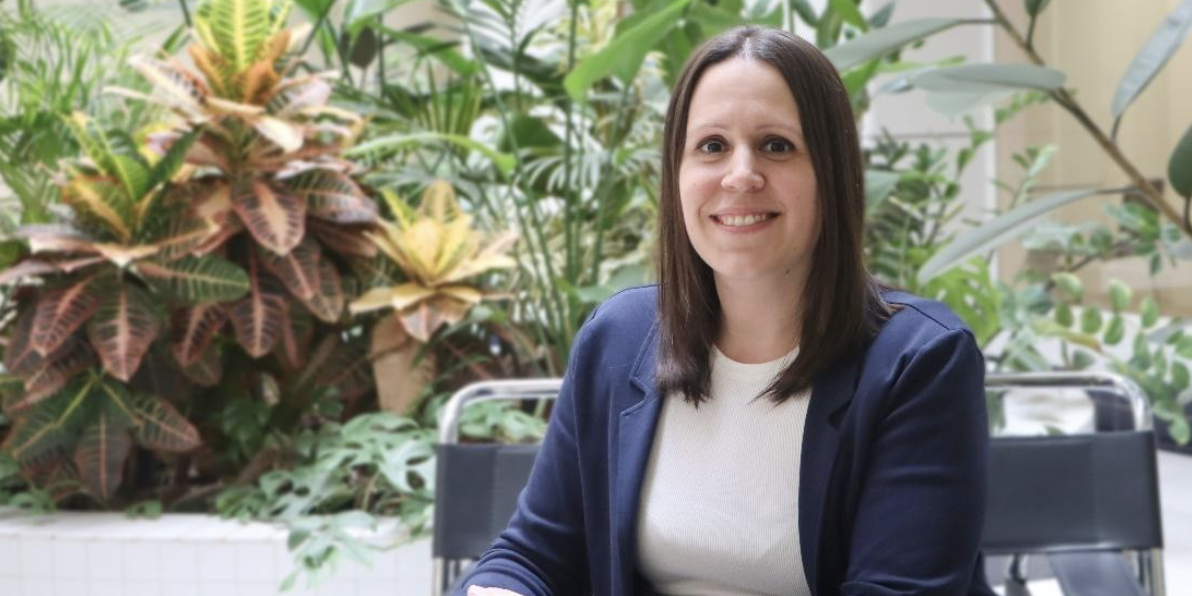 Elena Alcón's beginnings in the world of architecture and interior design began on her own in companies devoted exclusively to the construction of spaces. Years later, and as a turning point in her career, she came to the ceramic sector, first as an interior designer and later appointed as Head of Interior Design at Keraben Group.
"I started working in this area by chance and it has allowed me to continue helping to add value to the different rooms of a home."
In her work, she tries to be very practical, aiming to make the areas functional, while not neglecting design and always paying attention to all the details. "Functionality and custom environments are vital and must always go hand in hand," says Alcón.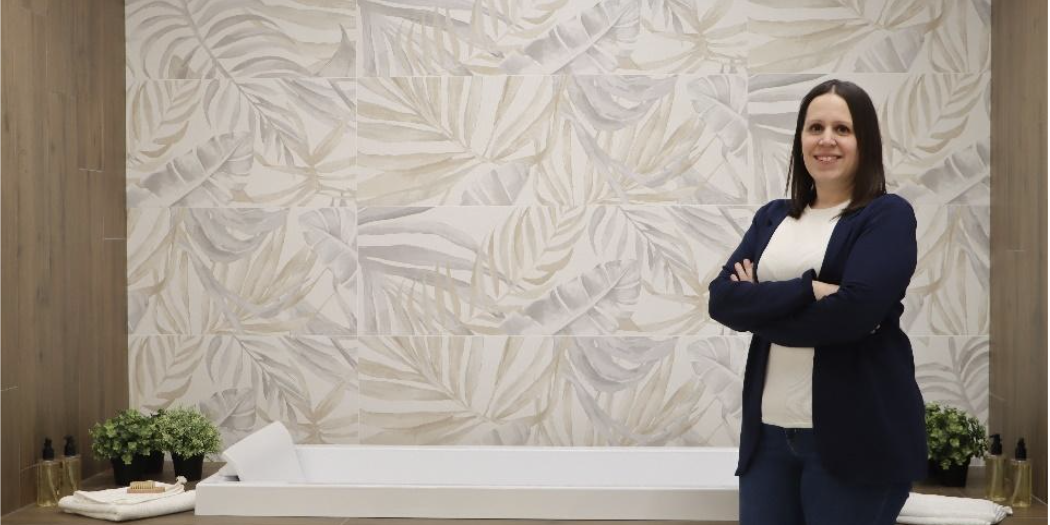 Moreover, the ceramic field is a world that "means a great deal" to her, both personally and professionally, as it pertains to interior environments, meant to be a reflection of elegance, style and creativity, and can be used to create rooms that reveal the personality of each user.
On the other hand, the "ephemeral architecture" that so characterizes the world of fairs is also part of her constructive vision. Thus, ceramics allow her to combine her two areas of work: Interior design and architecture.
Mies Van der Rohe and Le Corbusier, two of the pioneers of the history of modern architecture, are among her favorite historical influences.
The inspiration of a professional
In fact, her motto is "less is more", a concept that Mies Van der Rohe reflected in his professional career. Ultimately, it is a question of designing large, elegant and simple spaces. Furthermore, she thinks that Francesc Rifé, Fran Silvestre and Ramon Esteve are three of today's leading professionals, due to their work as both interior designers and architects, respectively.
"Less is more' defines my work"
The arrival of modern architecture has broken the mold with respect to traditional styles and the latter have been simplified to give greater importance to functionality and light, purifying spaces with the use of clean lines, giving them amplitude and leaving only the bare minimum.
"My style could be defined as contemporary with a Japanese mix"
Hence, the importance of "less is more", which she uses as a motto. She also defines her favorite style as "contemporary with a Japanese mix", also known as the Japandi style. In this sense, she argues that this Asian style is inspired by nature and, therefore, makes use of noble elements, such as wood or bamboo, with a neutral color palette, characteristic of the Scandinavian style.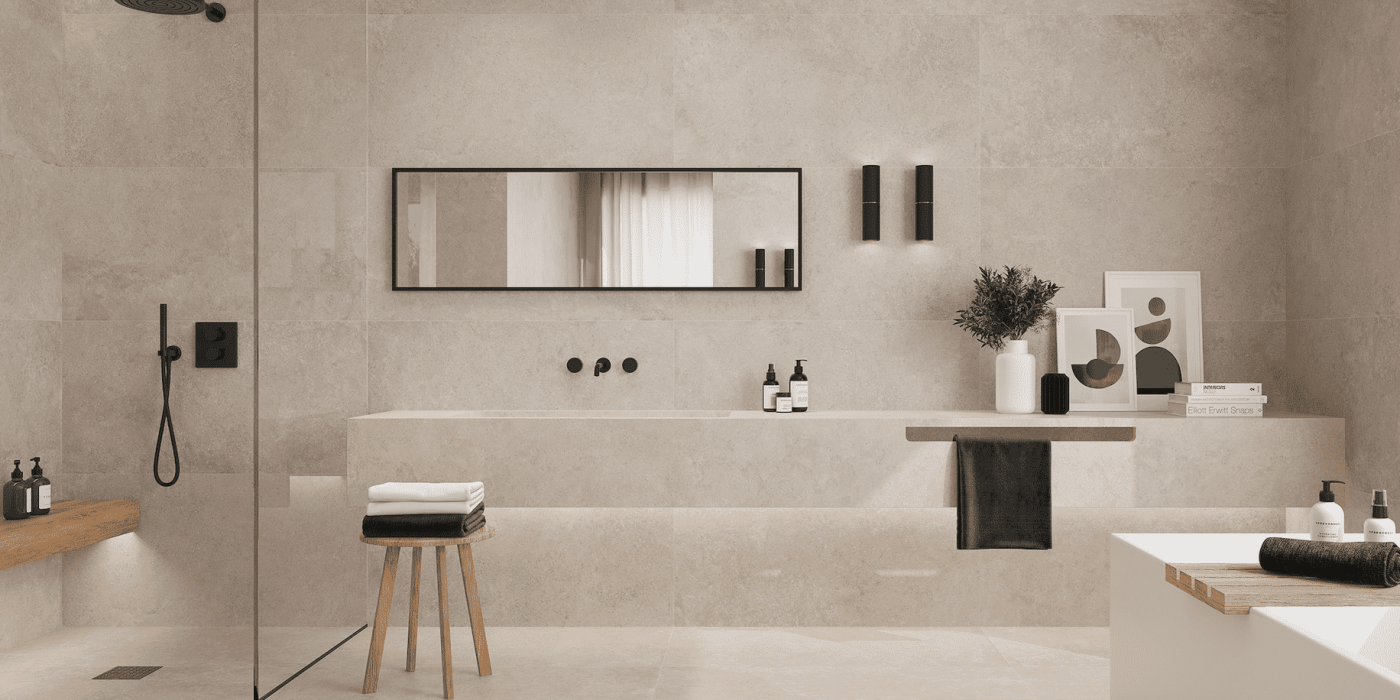 Verse Taupe 60x120. Keraben
Personal evolution: The key to finding your own style
In this sense, she states that finding her own style has been a matter of her "personal evolution", and that people are interested in different things as they grow and expand their horizons, both personally and professionally. In fact, this aspect should be taken into account when we choose our décor styles. Décor is a living thing, and, therefore, it may change.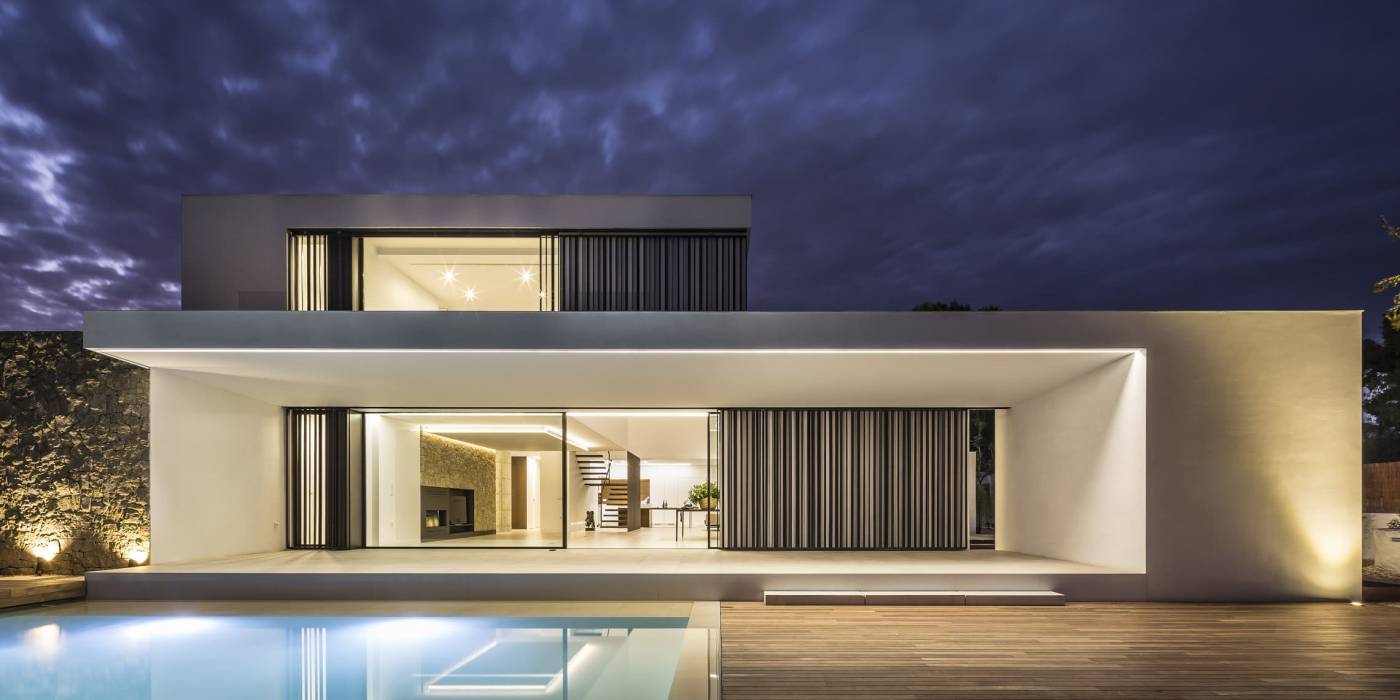 A house that merges with nature
To develop the projects, Elena advises us to use materials such as natural wood, stone or glass, and, of course, ceramics, because of its many qualities and technical advantages. Its countless finishes, beauty, ease of cleaning and durability have made ceramics an ideal material for any room, both interior and exterior. In addition, it also offers various technical solutions such as ventilated façades, steps or pool finishes.
Her favorite room: the living room
The rooms that she likes to decorate the most are living rooms, because they are larger spaces and the nerve center of homes, since this is where users spend the most time, reading, relaxing, eating and spending time with the family. In addition, this room has the option of extending outwards with a terrace, which helps to create a larger room and make it continuous. In this case, ceramics help us to maintain exterior/interior continuity thanks to antislip finishes.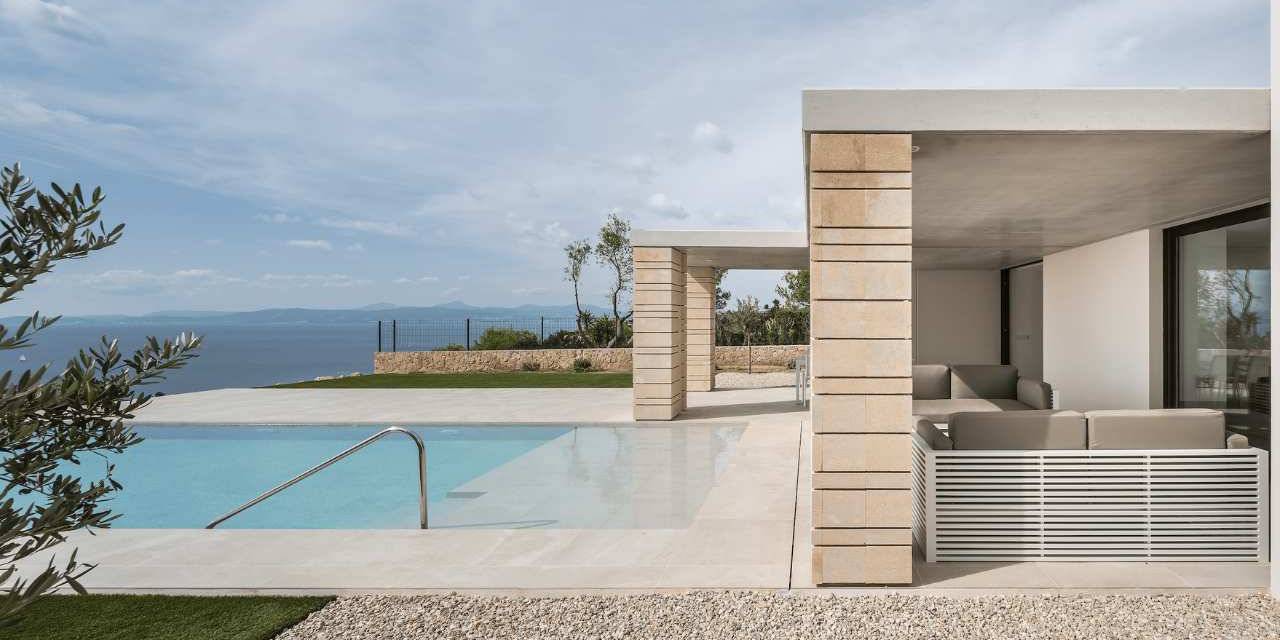 The "House on the Cliff" in Mallorca.
Tips for finding your own décor style
When it comes to finding your décor style, Elena thinks that the most important thing is for us to know ourselves and know what we like the most. This is what will give us peace of mind. This is also applicable to the different spaces and elements that we have available in our homes, providing an atmosphere that is a reflection of each of us and will make us feel comfortable in our spaces. In addition, to do so, each of our brands (Keraben, Metropol and Ibero) can help us find the style that best defines us.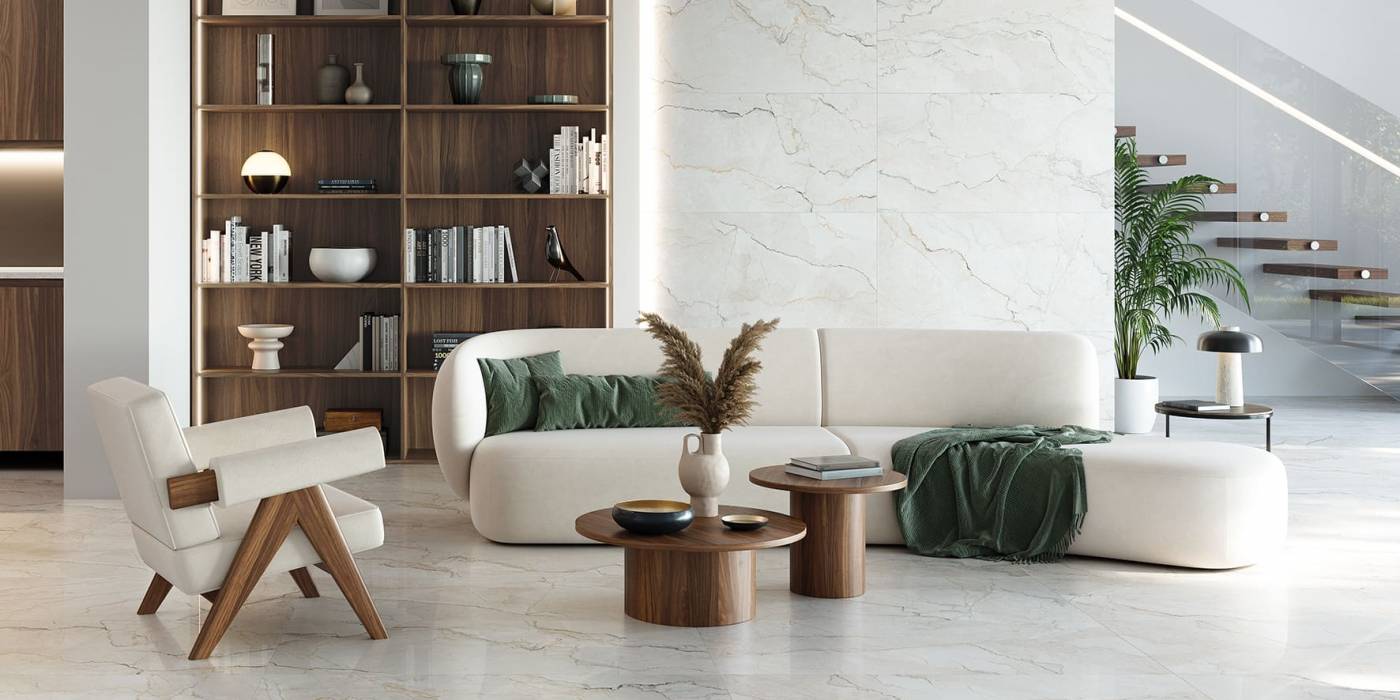 Camouflage Cream Starlight 60x120. Metropol
In addition, the head of Interior Design recommends that you be as informed as possible when defining your own style. For this reason, she advises you to:
1. Read magazines to be up to date on the latest trends in interior design and familiar with the most renowned and inspirational professionals

2. Travel to get to know new spaces and cultures, as this will bring you new perspectives when building functional spaces that, in turn, are well-designed.

3.Consult Pinterest to find inspiration. The goal is to create spaces that are a reflection of you and your true essence.