The Four Kitchens That You Liked the Most, Designed With Keraben Grupo
25 October 2022
We know that you like kitchens and that you want to find inspiration for your next renovation. For this reason, these are some examples of kitchens designed using Keraben Grupo products.
The kitchen is a unique room, where not only food is important, but also good company and a pleasant atmosphere. For this reason, the kitchen may be your favorite place in the house, and we are sure that you want it to reflect your personality to the fullest.
It is not always easy to choose the best elements to create a dream kitchen, but we are sure that these examples will help you. Be inspired by these five designer kitchens.
1. Casa en Gorgos: a modern family kitchen
In Valencia, Casa en Gorgos is an example of good taste, distinction and modernity, and its kitchen is a fine example. Aiming for light and spaciousness, this entire house has been renovated to dazzle with its sober, modern style.
The heart of the house is the kitchen island, which helps divide up its sections and creates an ideal place to chat, have an aperitif and have a good time. Wewood Siena's wood-look Ibero porcelain has been chosen to provide this designer housing with continuity.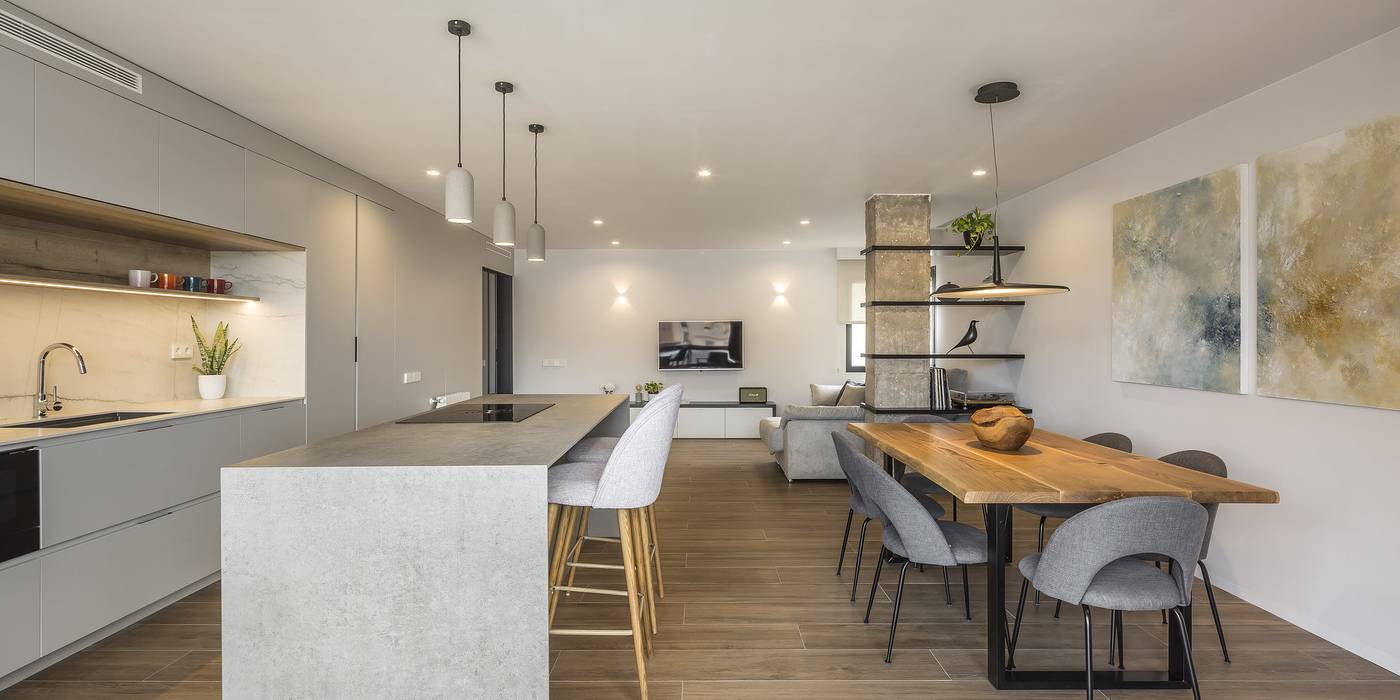 Casa en Gorgos design with Wewood Siena
2.Open-concept kitchens that are full of contrasts
Open-concept kitchens are an excellent way to make the most of space, as the architects at Bolero Estudio have done in Casa Masi, in Santa Cruz de Tenerife.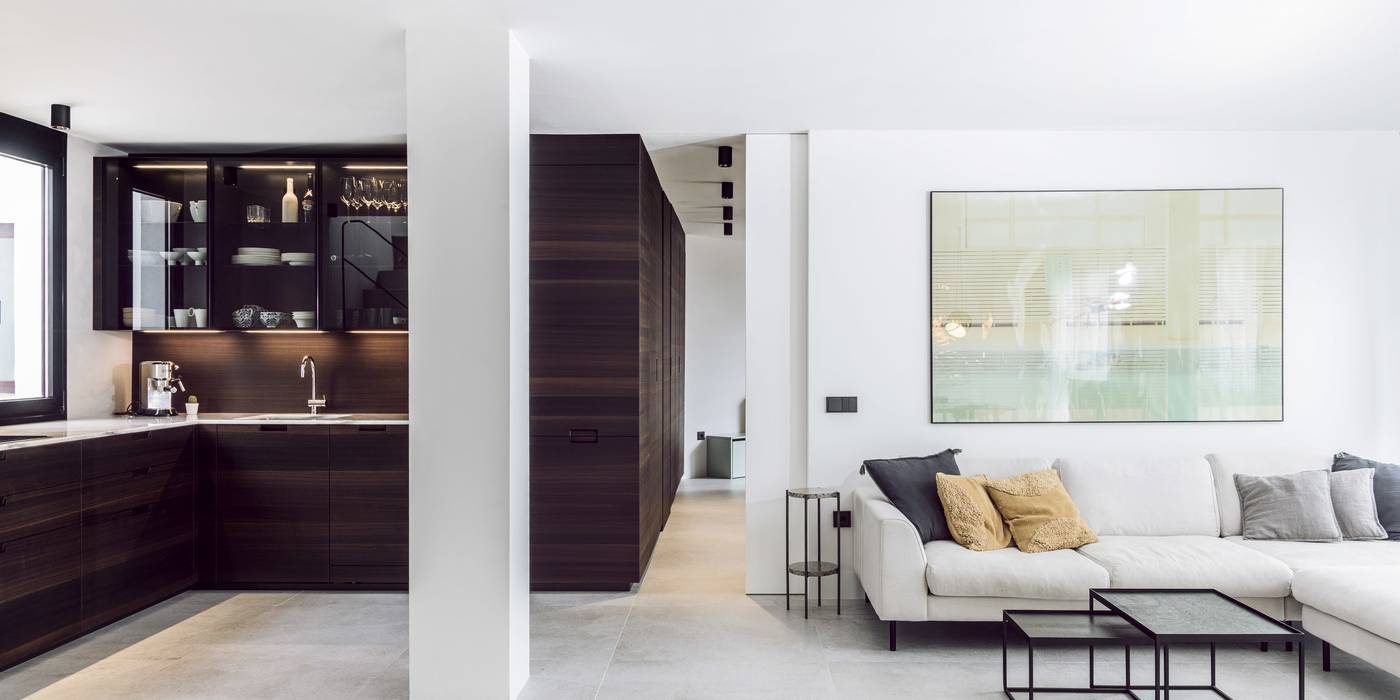 Casa Masi design with Underground White
A house where contrasts are luxury guests. Where the depth of the Rovere Termocotto wood and the white of the Keraben flooring, Underground White, are a perfect match.
With a style that generates unlimited continuity with the rest of the house, the Casa Masi kitchen is unique.
3.Garden kitchens that are ready for anything
Who said that kitchens always had to be inside the house? In this house in Valencia, designed by the Viraje architecture studio, nature and home have been seamlessly combined.
Its modern, industrial appearance merges with nature and this fusion is enhanced by choosing the same porcelain tiling for inside and outside the home.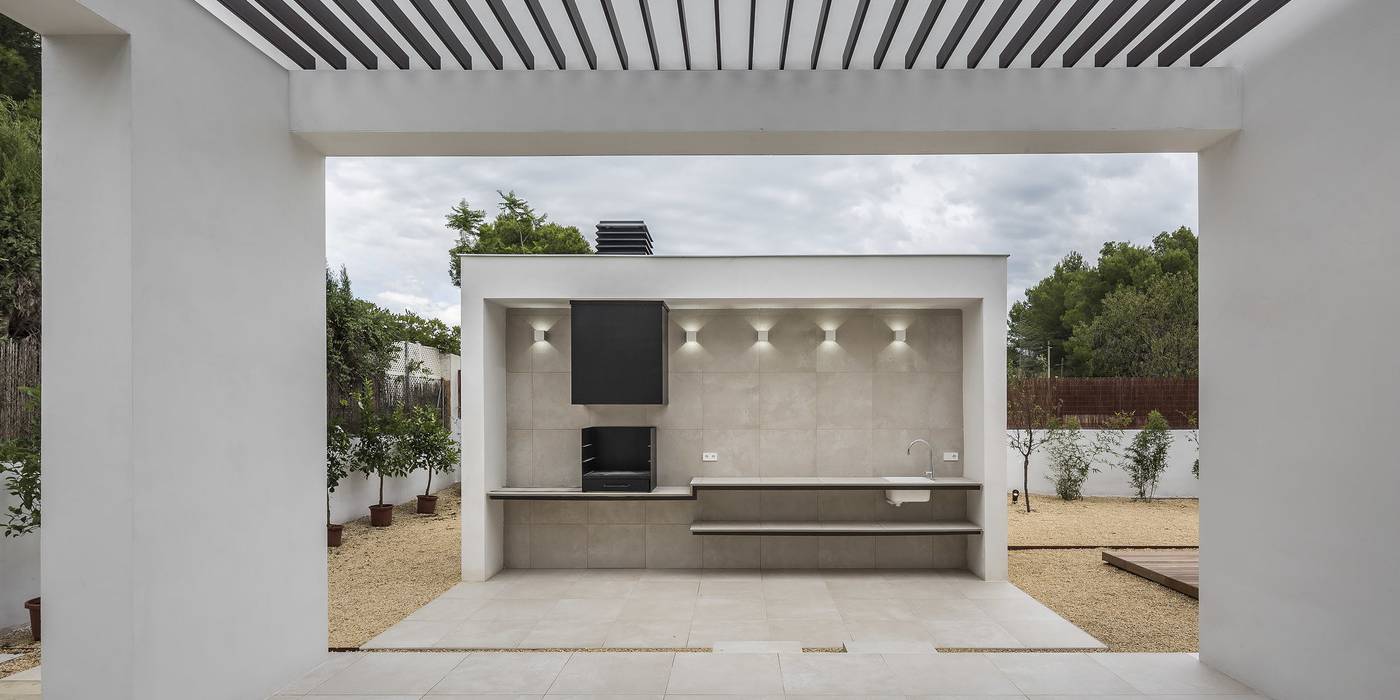 Kitchen design with Inspired Cream Metropol
4.Multifunctional space in Casa Bazán
If you are a restless person who seeks to make the most of time and space, you will find an excellent source of inspiration in the kitchen of Casa Bazán.
An open-concept kitchen with a built-in table that embraces the idea of a multifunctional space. In this house, where the day and night areas are clearly divided, the flooring chosen to provide the kitchen with quality and resistance is Stoneage by Metropol.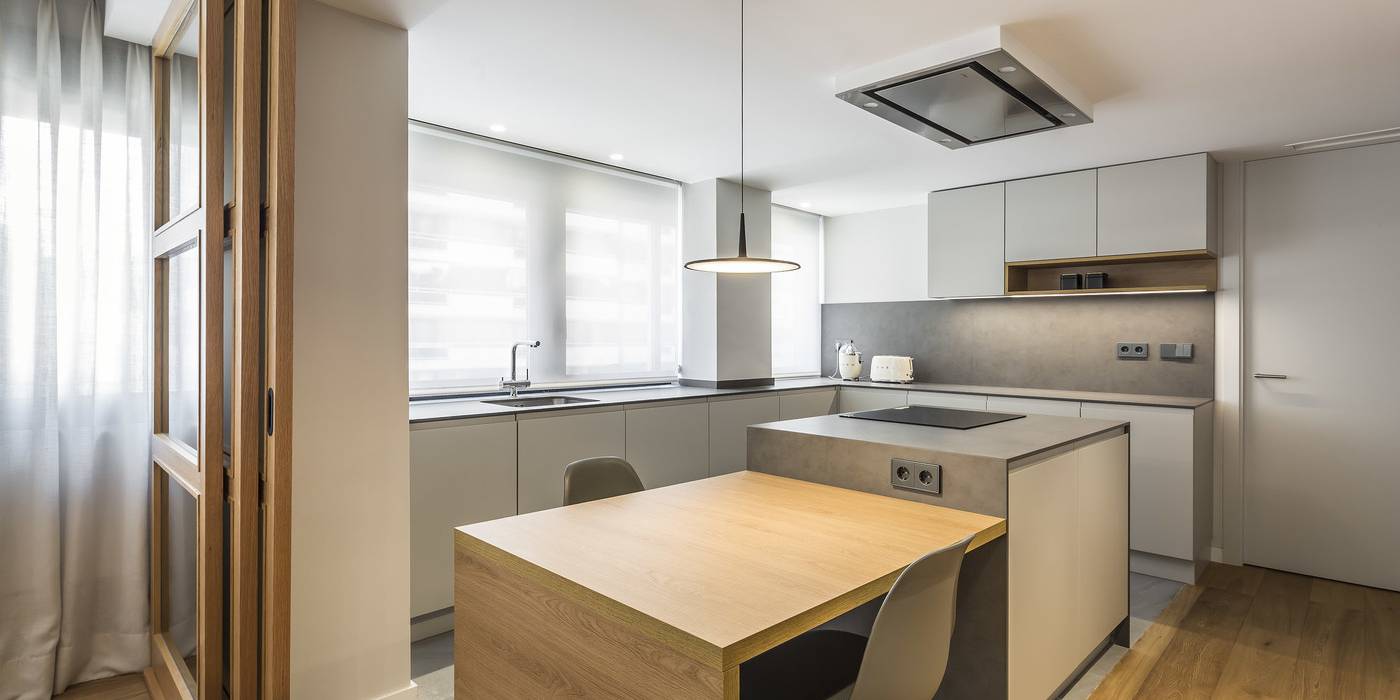 Stoneage Metropol
How can the kitchen be kept clean?
The kitchen is one of the most delicate spaces in the house when it comes to cleaning. On a day-to-day basis, it is almost impossible to keep it from getting dirty. But, at the same time, it must be kept hygienic since it is where we prepare our food.
Take note of these tips to keep your kitchen and its floor clean:
Set aside time each day for cleaning and disinfecting the most critical areas and elements: the sink, the countertop, the sponges or the rags.

Scrub, dry and pick up crockery every day to prevent it from accumulating.

Store any leftover food in airtight containers.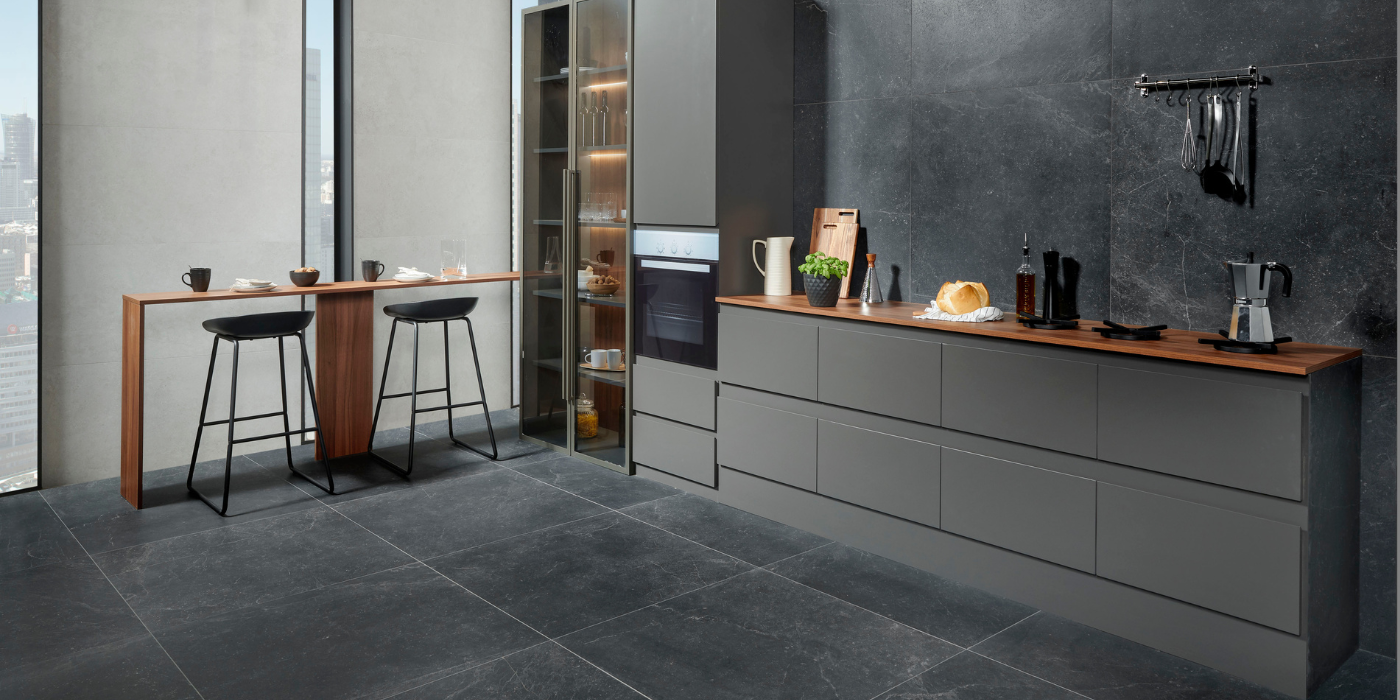 Bleuemix Black Soft Keraben
To keep the kitchen floor clean, it is essential to have chosen a quality floor that does not easily stain or get damaged. As we already suggested in a different article, shade variations and rectified edges are the best option to prevent dirt from accumulating.
In addition to choosing the right floor, it must be kept clean every day:
Clean any stain that may have been caused by falling liquids or food.

Sweep and scrub with warm soapy water to keep it looking new.
New STARLIGHT finish, a proposal for kitchens that look to the future
Our collections with a Starlight finish can be applied to both floors and walls, highlighting the luminosity of the smallest kitchens. Contrary to what one might think, its sealing treatment improves resistance to stains that can occur in these spaces.
Some of the series available in Starlight that we recommend for kitchens are: Idyllic and Universe by Keraben, Chrome and Charisma by Metropol.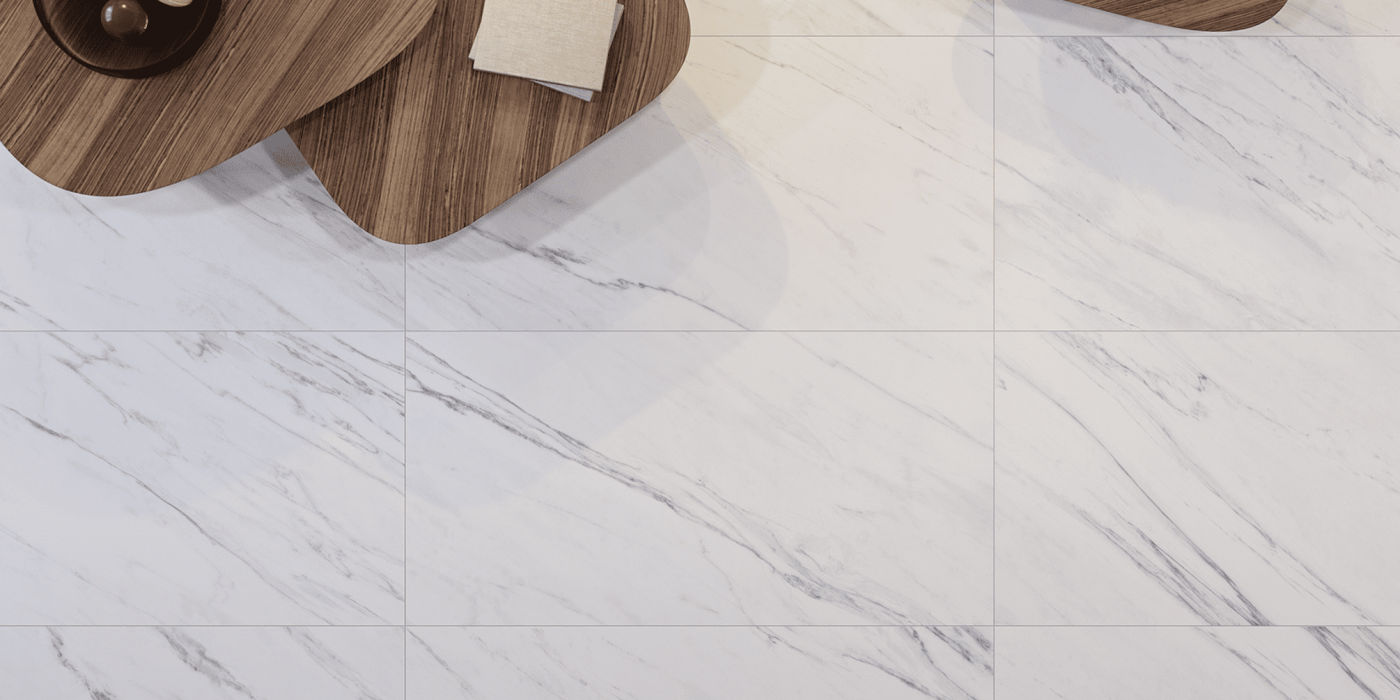 Charisma Eleganza White Starlight Metropol
We hope we have inspired you with these five kitchens and that these latest tips for keeping your kitchen and its floors clean will help you turn your kitchen into an idyllic place that will be your favorite area of the home.