The best tile combination for bathrooms
24 February 2022
Deciding on tile combinations for a bathroom that reflects your personality and tastes can often be a real challenge. That's why, in this article, we will give you some ideas on how to personalise your bathroom using tiles that provide the perfect combination to suit you.
Combinations of coloured tiles for bathrooms
What is the best tile combination for your bathroom? There is no correct answer, it is simply the one that you like the most. There are so many options that it all depends on your personality and what you want to reflect through that space.
What is the ideal colour for a bathroom?
As we have already mentioned, the ideal colour for a bathroom depends on the effect you want to achieve. If you want a bright bathroom, it is best to opt for light tones such as white.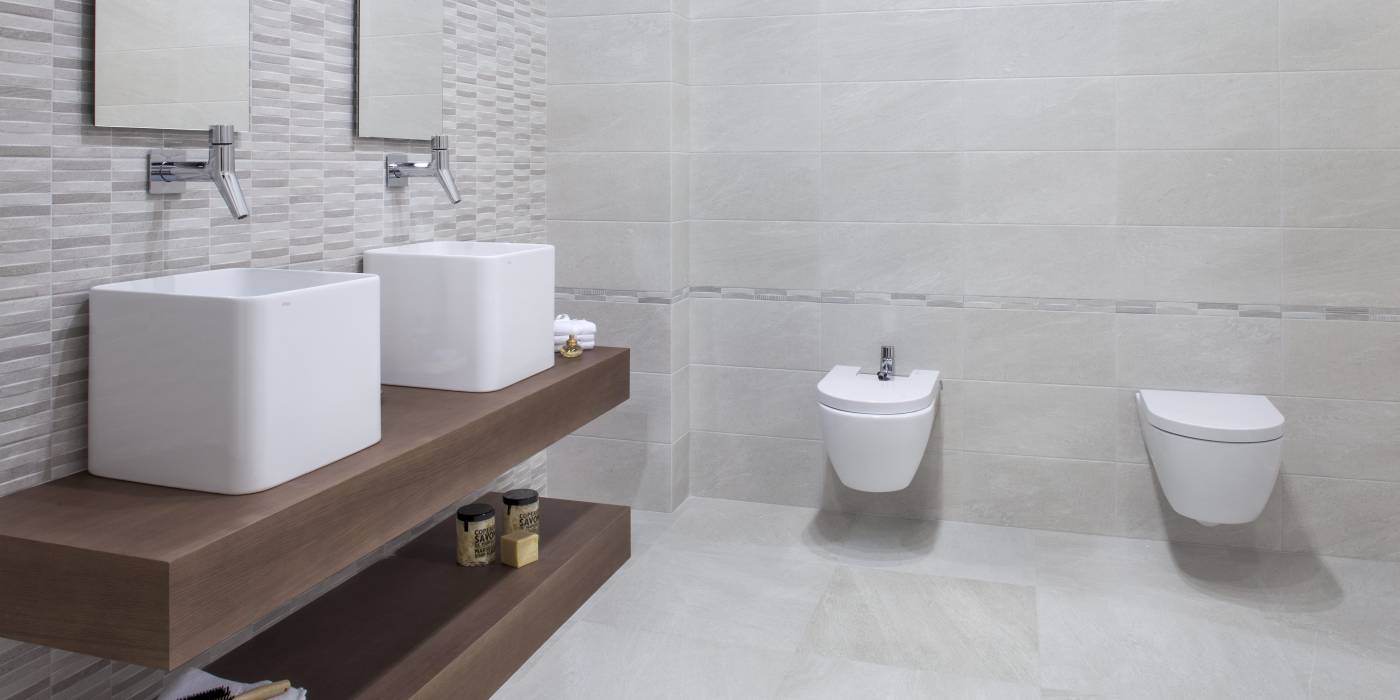 Brancato White Collection, Keraben
For contrast and a more modern touch, you can opt for warmer shades of grey, or even black may be the best choice in some areas.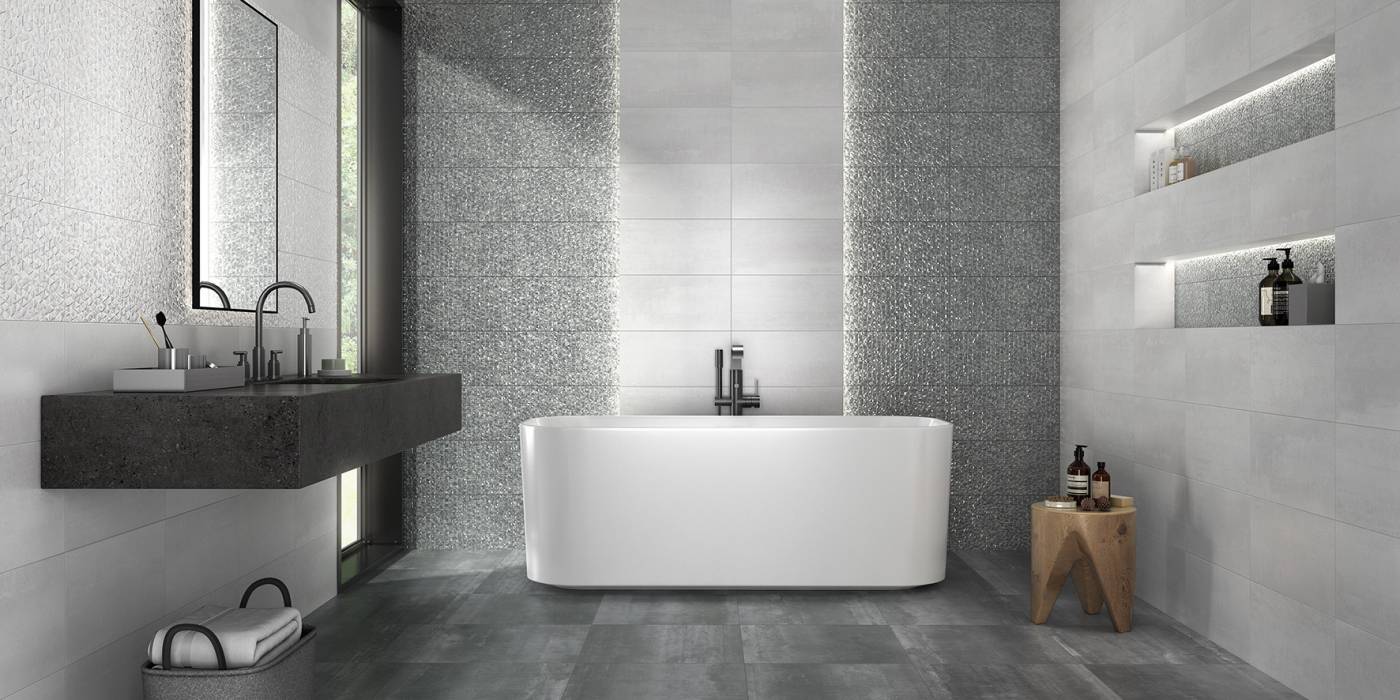 Barrington Concept Graphite Collection, Keraben
If you are looking to create an elegant and neutral bathroom, beige or light brown are a must. And in bathrooms where you want to reflect a cheerful and unique personality, opt for pastel tones as they will be a safe bet to fill this space with vitality and joy.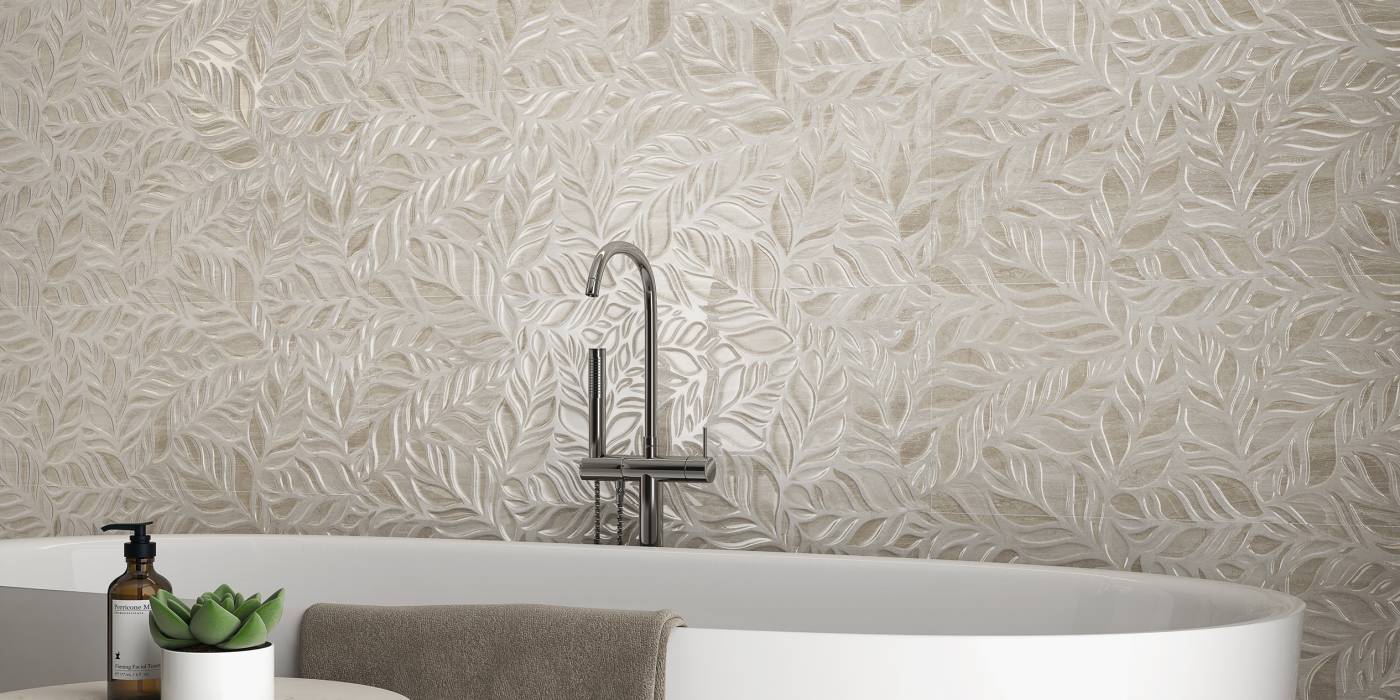 Luxury Art Collection, Keraben
Tiles in neutral tones for the bathroom
As well as being a staple, neutral shades are also timeless, classic and extremely elegant. If these three characteristics match your personality and what you are looking to reflect in your bathroom, then these are the best options for you.
Grey tiled bathroom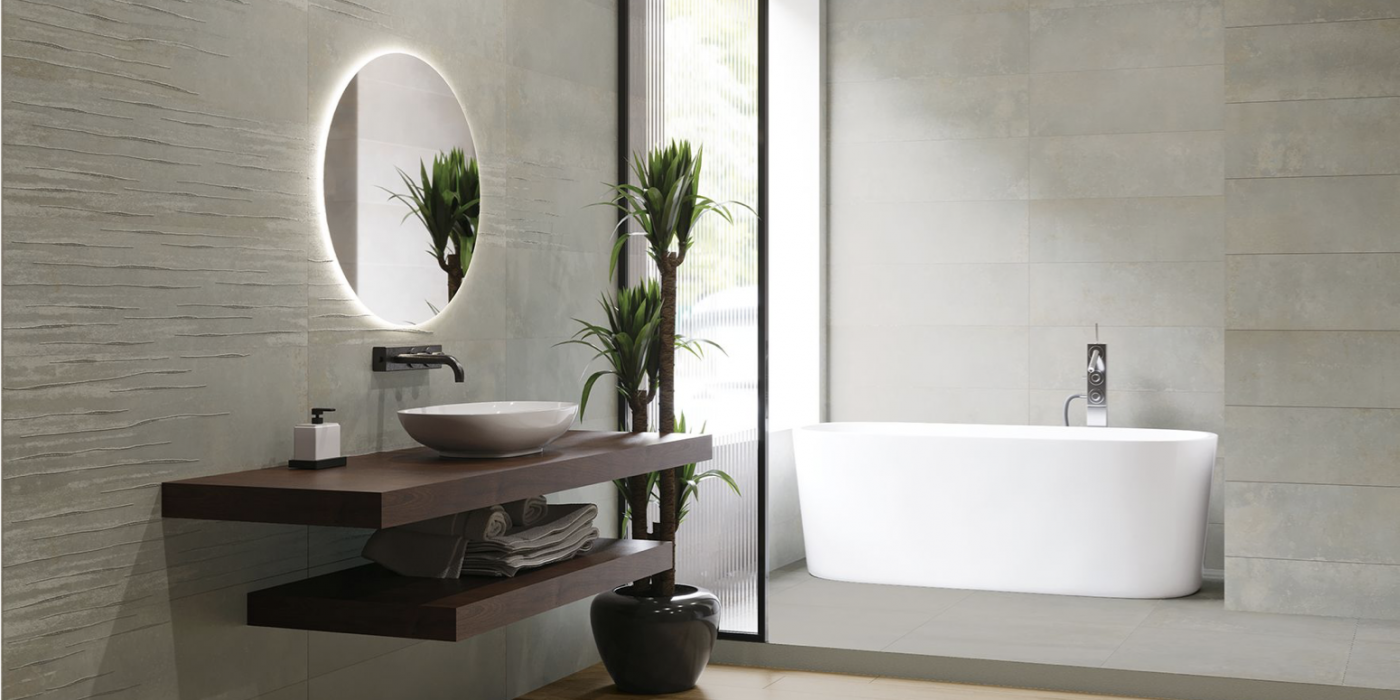 Gravity Silver Collection, Íbero
A grey tiled bathroom is elegant, and reflects a strong personality. They will go perfectly with white tiles and any style of flooring, making grey an excellent choice. Gravity by Ibero in a Silver tone is a sophisticated and unique tile.
White tiled bathroom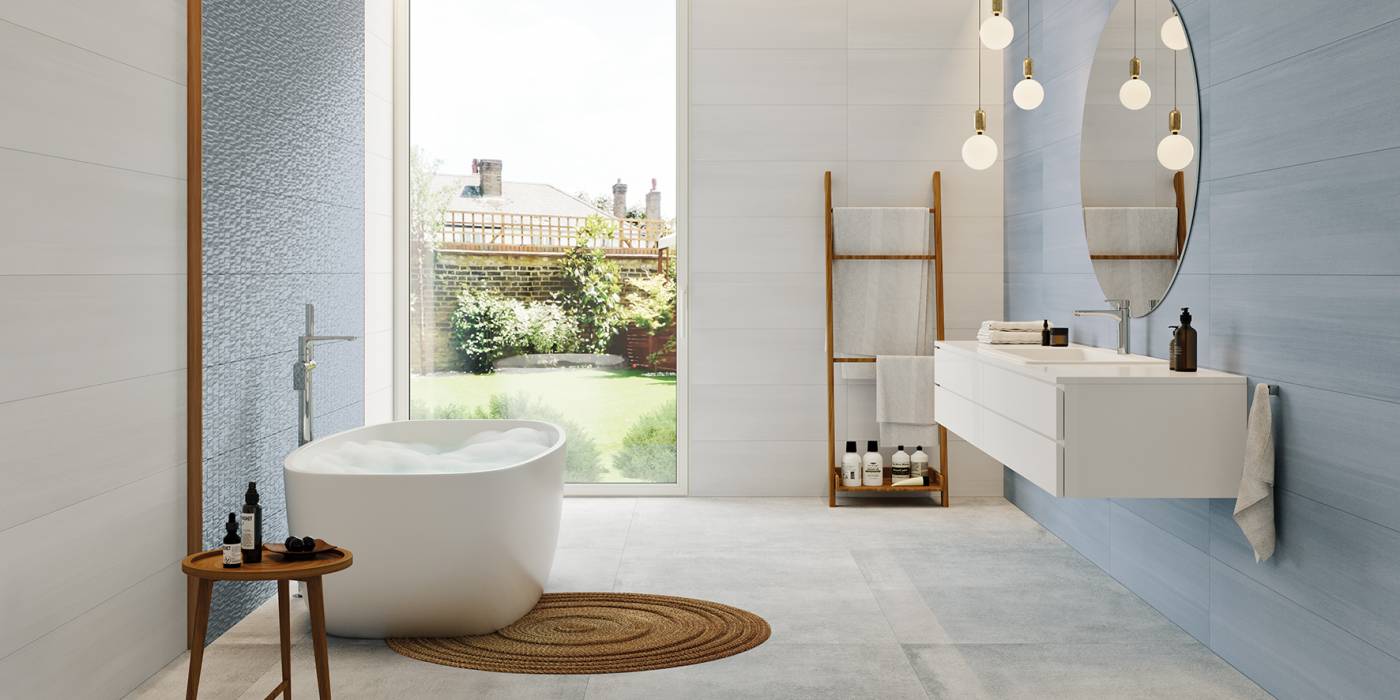 Fushion Blanco with Concept Azul Collection, Metropol
White tiles are classic and bright, an ideal choice for those who love light and spaciousness. Metropol's Fushion collection features the White and Concept White models: a smooth and textured option that, when placed together, create a very interesting effect that provides a unique touch to a bathroom with white tiles.
Beige tiled bathroom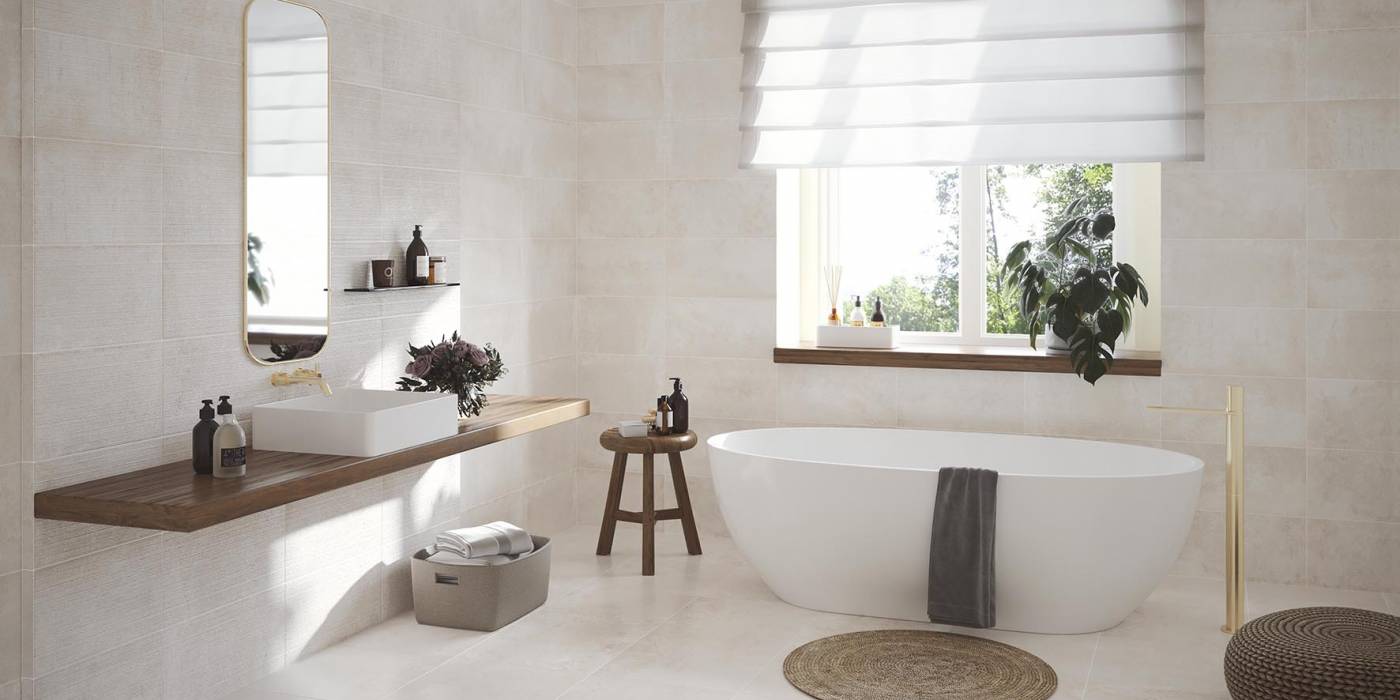 Rue de Paris Concept Beige Collection, Keraben
Beige is a sophisticated and warm colour that transcends time. If that is the style that you want to invoke in your bathroom, fitting tiles with the Beige tone from Keraben's Rue de Paris collection will be the best choice.
Tile combinations for small bathrooms
It is always the same goal in smaller bathrooms: to visually enlarge the space. Beyond total white and the use of mirrors as elements that function as vanishing points, these are the best tile combinations for small bathrooms:
The most natural combination: stone and wood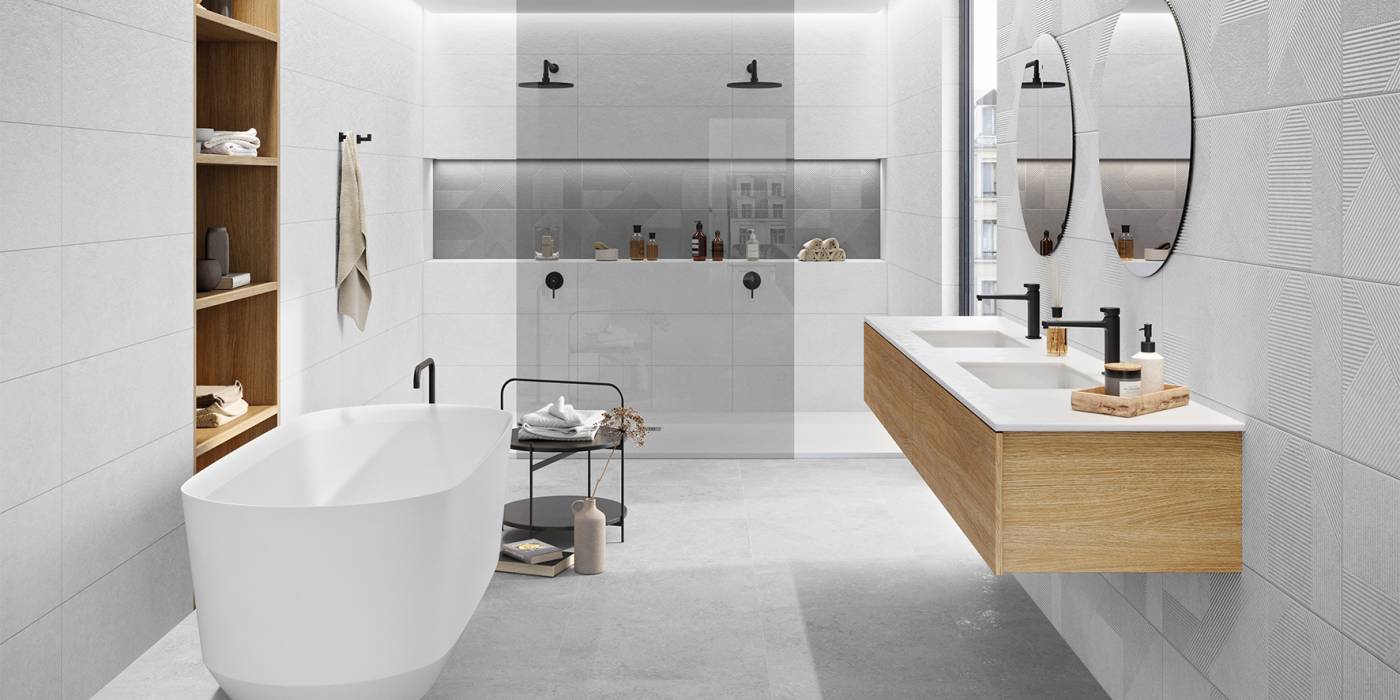 Verse Concept White Collection, Keraben
Stone and wood can be the ideal combination with which to enlarge the space of a small bathroom. Choose light colours to enhance the effect of spaciousness. Keraben's Verse collection in its White tone will combine perfectly with a light Wood tone, such as Ibero's Wewood Cream.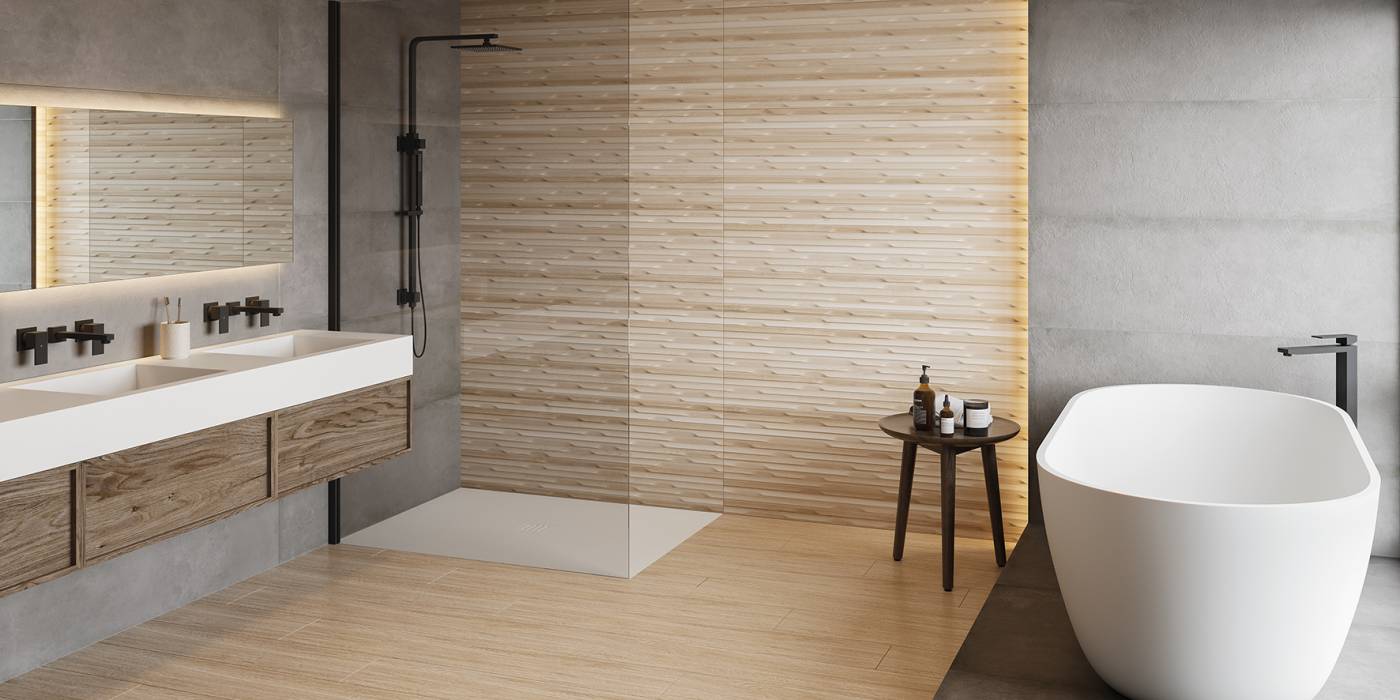 Wewood Concept Cream Collection, Íbero
Matching the texture: smooth and textured effect
You can make a small bathroom appear larger by highlighting areas such as the sink or shower with a textured effect.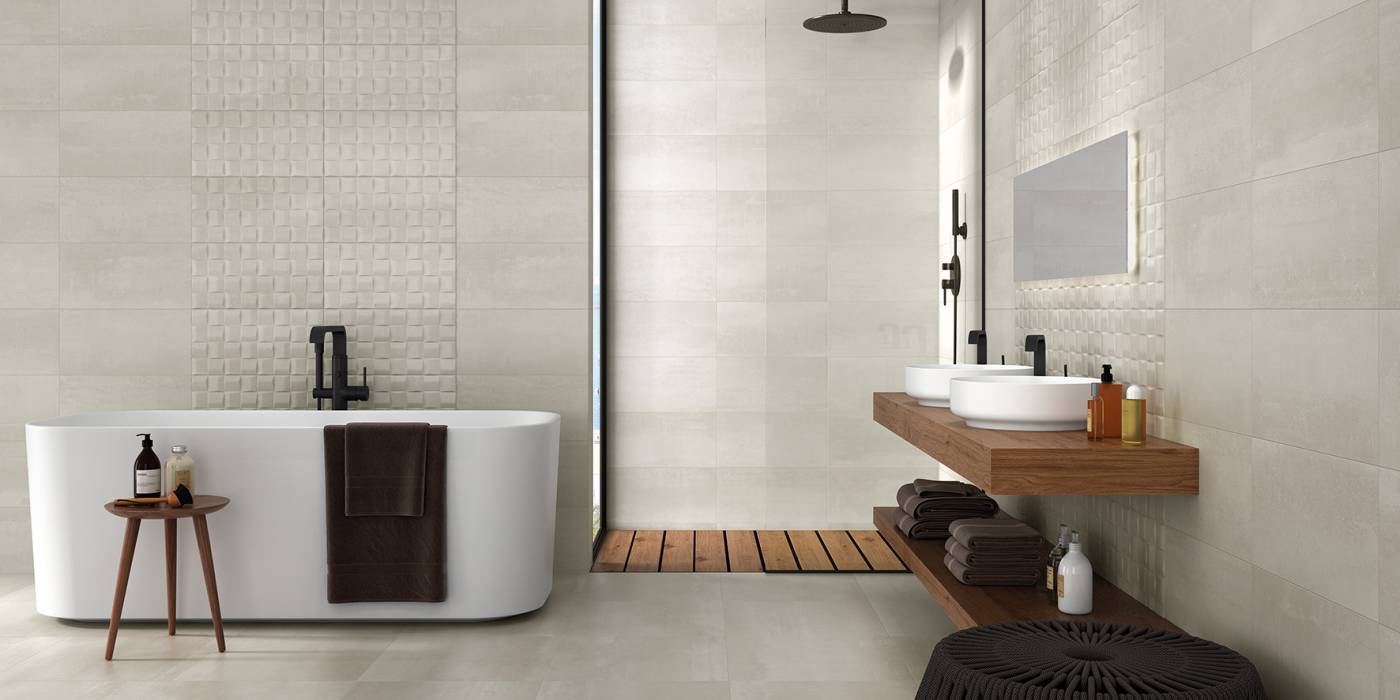 Barrington Cream Collection, Keraben
Using light colours, you can opt for Barrington by Keraben, combining the Cream or White tone with its corresponding Art tone.
Two colours in the form of a frieze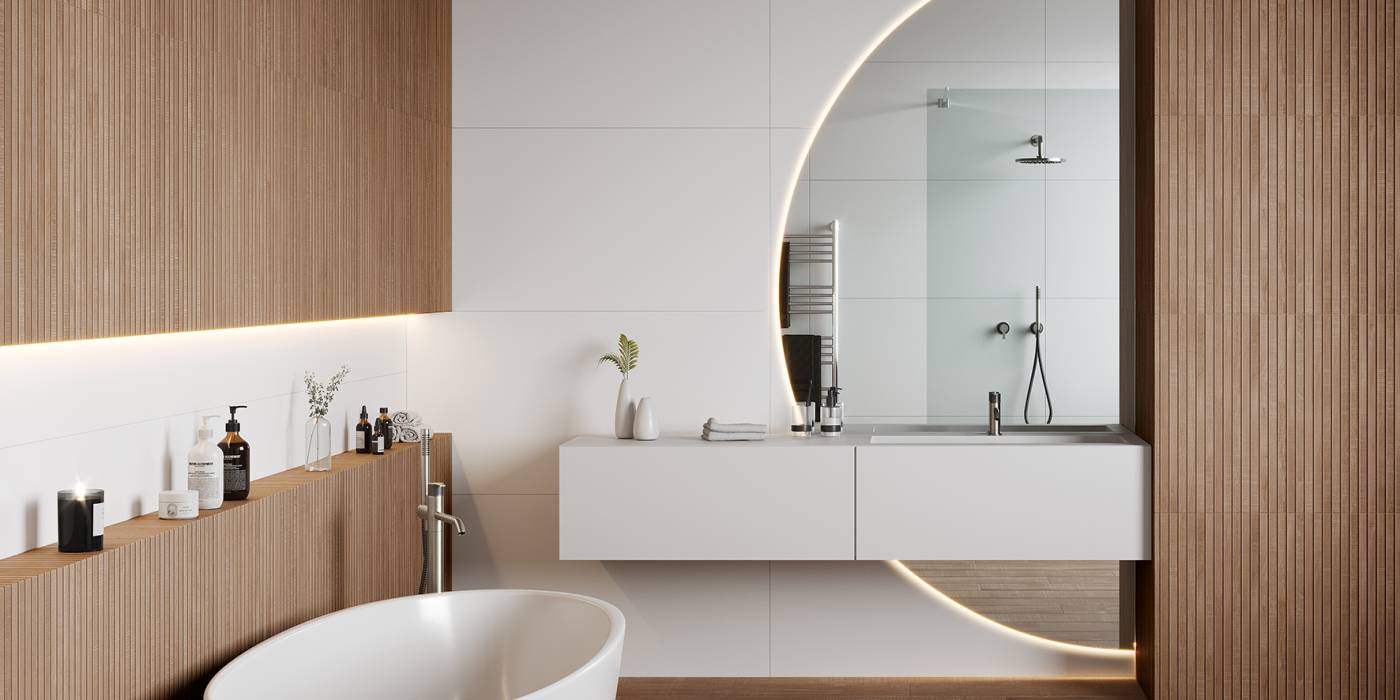 Hikari White Collection, Íbero
To achieve the visual effect of a larger bathroom, use a light tone in the general tiling, such as Ibero's Hikari White; and create a frieze that runs halfway along the bathroom in a contrasting tone, such as Wewood's Crema tone, installed horizontally.
How to combine tiles in the shower?
The shower is a key feature when it comes to bathroom tiling. A good combination of tiles in this area is essential, especially if we want it to stand out from the rest of the room.
If you want the shower to be the focal point, cover it with the textured or colourful tiles of the combination that you have chosen for your bathroom.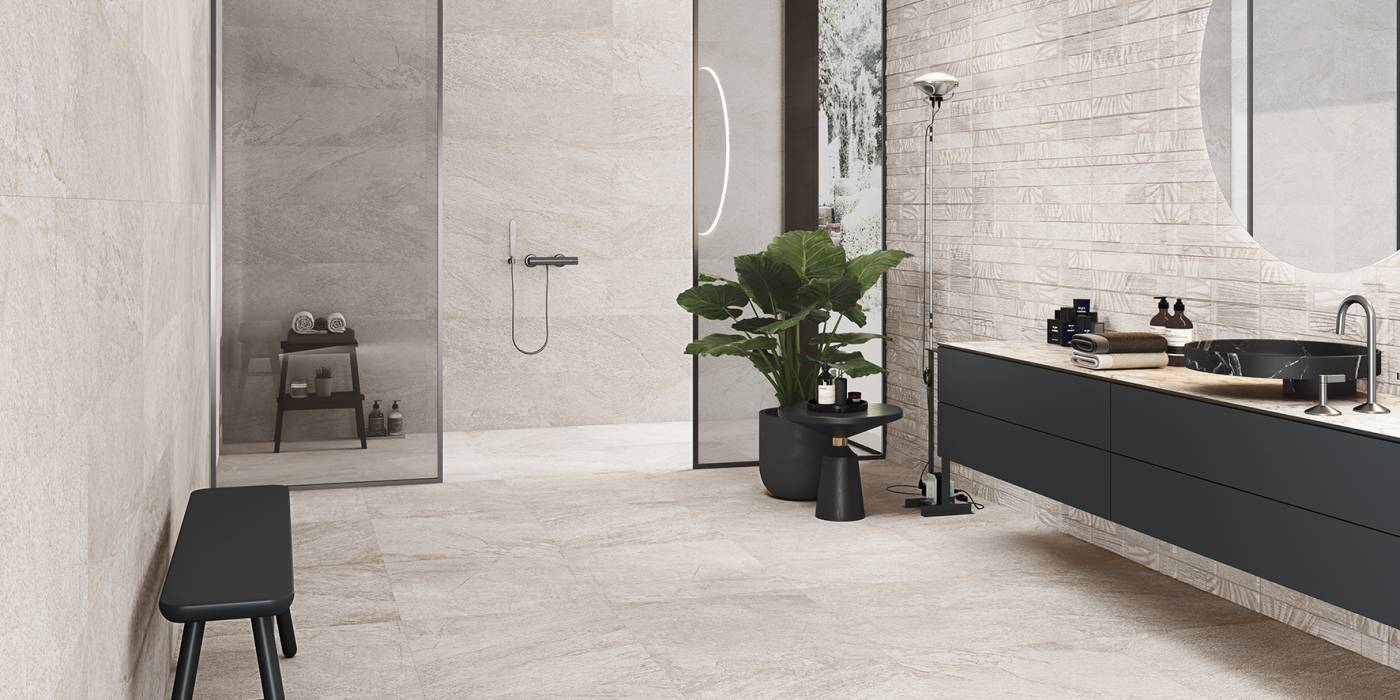 Yera Art Beige Collection, Metropol
In this way, all eyes will be on that space. For example, if you have chosen to combine two textures from Metropol's Yera collection, Art Beige and Beige, fit the shower with Art Beige to make it stand out.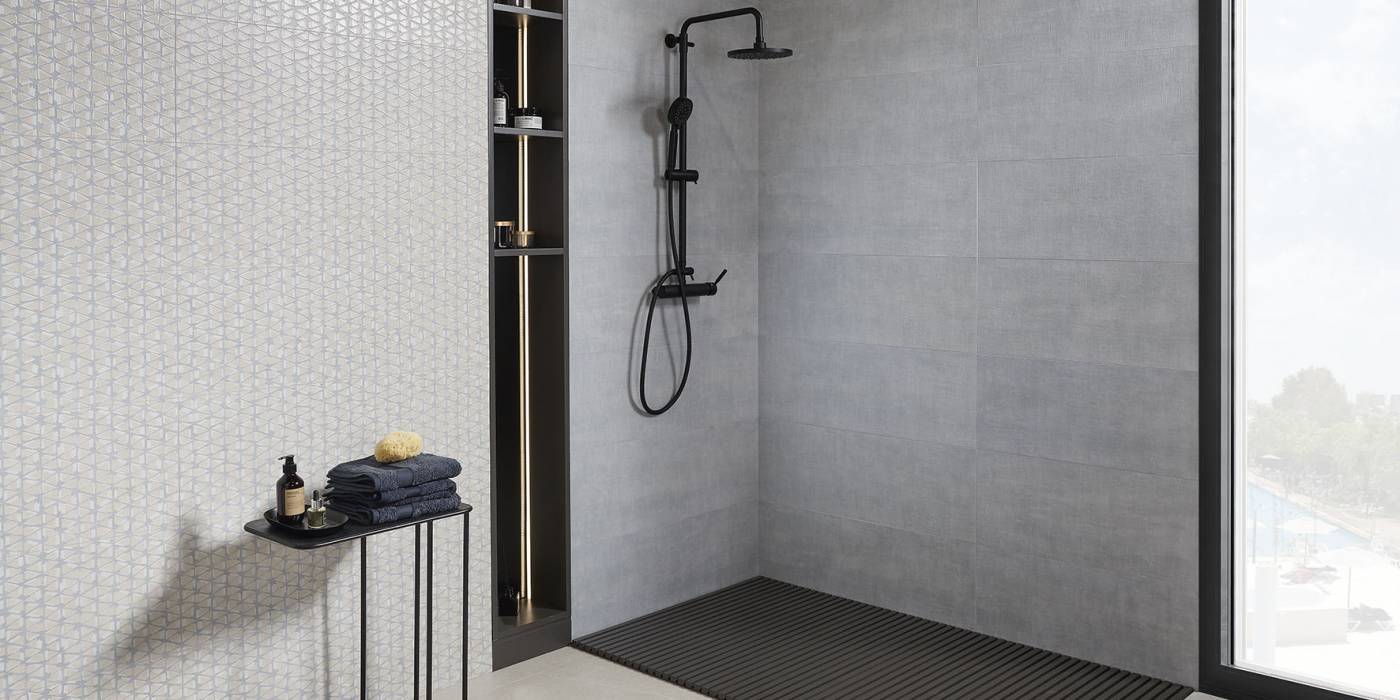 Tapiz Concept Blue, Keraben
In a neutral bathroom where you want to highlight the shower with a different touch of colour, you can use the Tapiz Marfil tone by Keraben throughout the bathroom, and the Blue or Terracotta tones in the shower.
Frequently asked questions about bathroom tiles
What's the best way to combine tiles in a bathroom?
There are many ways to combine tiles. In terms of colour, you can choose to combine colours that contrast with each other. You can also combine different materials, such as wood and stone. Another way of combining tiles in the bathroom is to introduce different textures.
What is the best bathroom tile?
Although there are many materials, the best tile for the bathroom is made of porcelain, as it is more resistant and easier to clean.