Cleaner kitchen floors
23 September 2022
Part of the secret to having a pleasant and comfortable home lies in cleanliness. One of the keys to this is keeping the most difficult areas clean, such as the kitchen and the bathroom.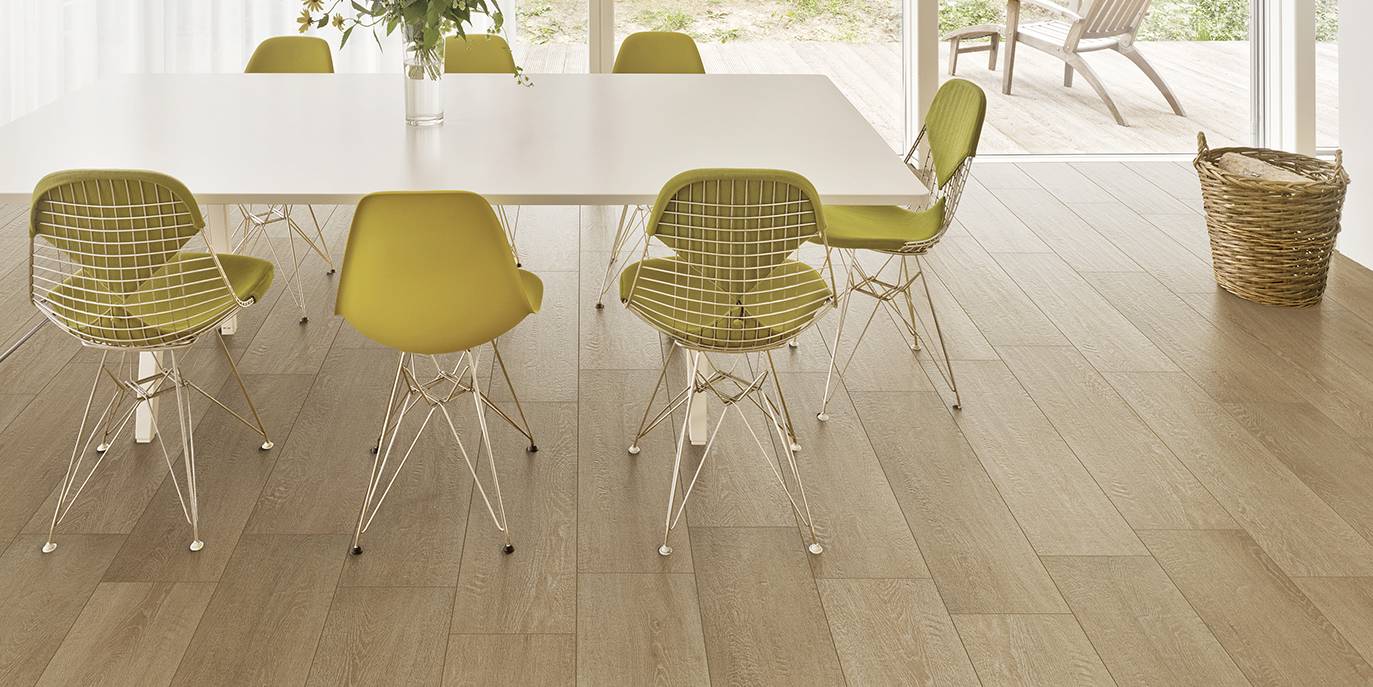 Savia Roble collection by Keraben
An infallible way to keep your home cleaner is to choose the right flooring, in terms of both materials and colours. Kitchen floors should have technical and aesthetic qualities that make cleaning easier and conceal dirt.
In this article, we are going to help you choose the best tile for your kitchen floor, because we are convinced that much of the secret to maintaining cleanliness at home lies in choosing the right ceramic floor for your kitchen.
What is the best colour for kitchen floors?
The kitchen floor is one of the areas of the house that suffers the most wear and tear. Not only can bits of food fall on it while you're preparing your favourite dishes, but also liquids such as water or oil. And it's almost inevitable that the floor will be stained with spills from time to time while you're cooking.
That's why it's so important to choose a long-suffering kitchen floor, and one of the ways to achieve this is with a good choice of colour. Contrary to what you may think, the fact is that light colours are the ones that show less dirt.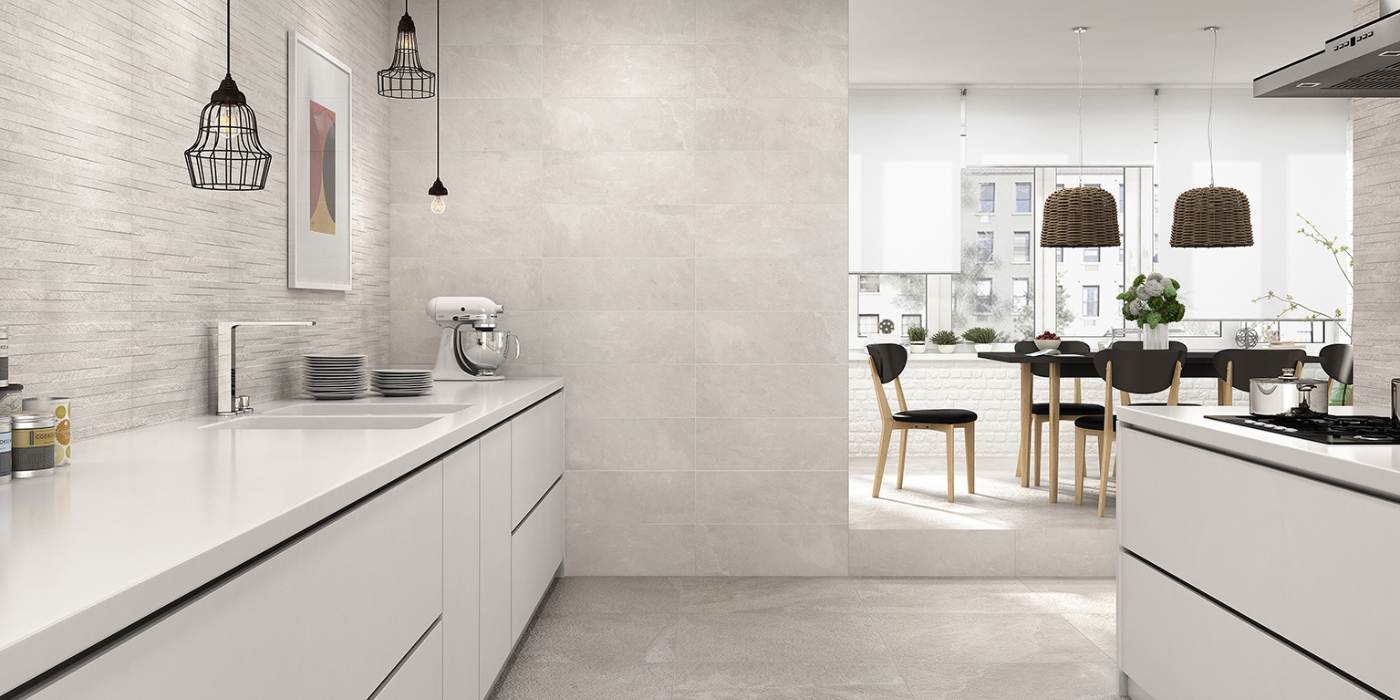 Terranova White collection by Íbero
Bearing this in mind can make the difference between having a kitchen that maintains a cleaner appearance longer and one where the dirt remains visible. In addition, light-coloured porcelain tiles are ideal for small kitchen floors, as they enlarge the space visually.
Just remember that when we refer to light tones, we don't mean a white floor. Avoid drastic tones, such as white or black as they can make the dirt stand out much more easily.
Shade variations to conceal stains
Ceramic tiles with shade variations are those that have a certain gradation of colour that varies from one piece to another. Thanks to this effect, it is much easier to conceal stains and dirt on the floor.
Iconic Avorio collection by Metropol
A clear example of this is imitation stone ceramic tiling. By emulating the naturalness of this material, the floor will not be completely uniform in color and will allow stains to be concealed.
Ground edges for minimal joints between tiles
When it comes to keeping the floor clean, one of the most difficult areas are the joints. These joints often accumulate dirt and are harder to clean than the ceramic tiles themselves.
The best way to avoid this problem is to choose tiles with ground edges. With these, the gaps are minimal, preventing the accumulation of dirt.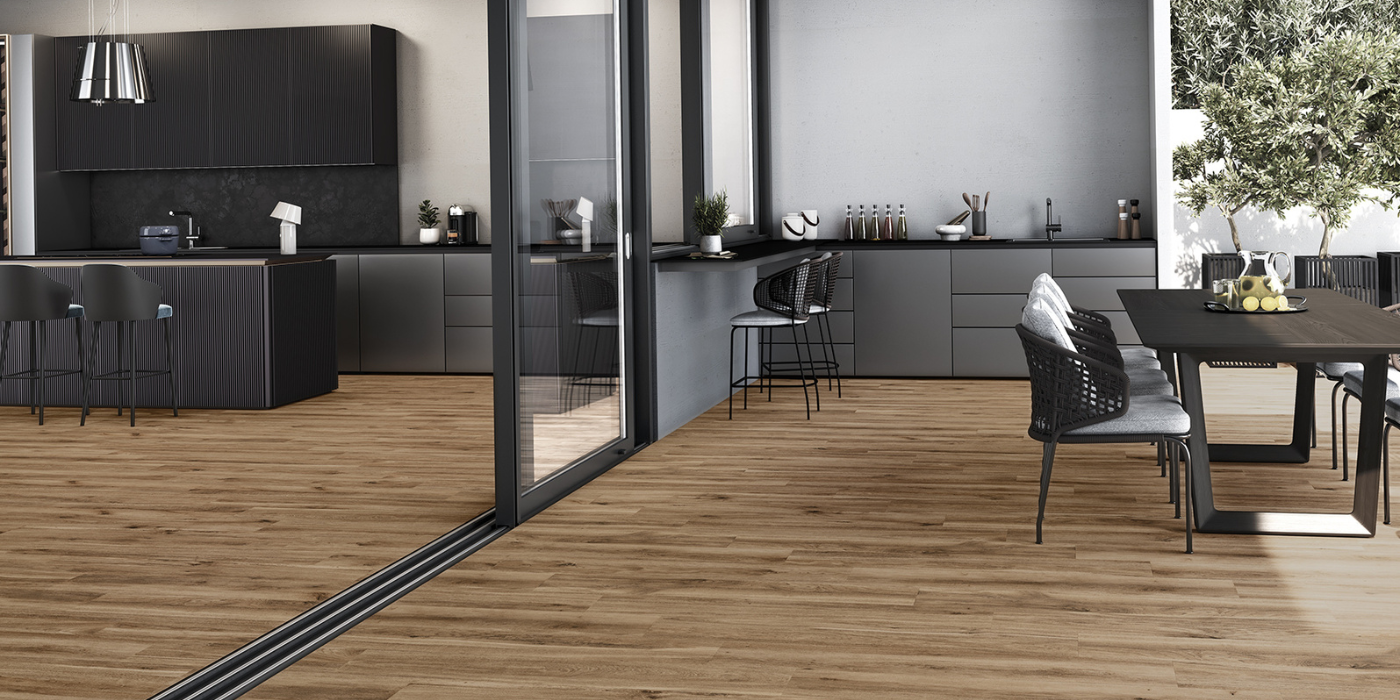 Mayari Titanium collection by Metropol
Decorative floors: hydraulic tiles
Decorative floors, such as hydraulic tiles, are a great option for having a floor with different shades that conceals dirt well.
Naturwood Hidraulicwood Moka collection by Keraben
In this case, it is particularly important to consider the level of gloss, as a floor that is too glossy or too matte can cause dust to show. The best option is somewhere in between: a satin finish floor.
The key: large size
We have already mentioned the problem of floors with too many joints, or with very wide joints. A large format reduces the number of joints to a minimum.
In fact, if you choose a floor with large tiles and, in addition, with ground edges, the joints in your kitchen floor will be practically imperceptible.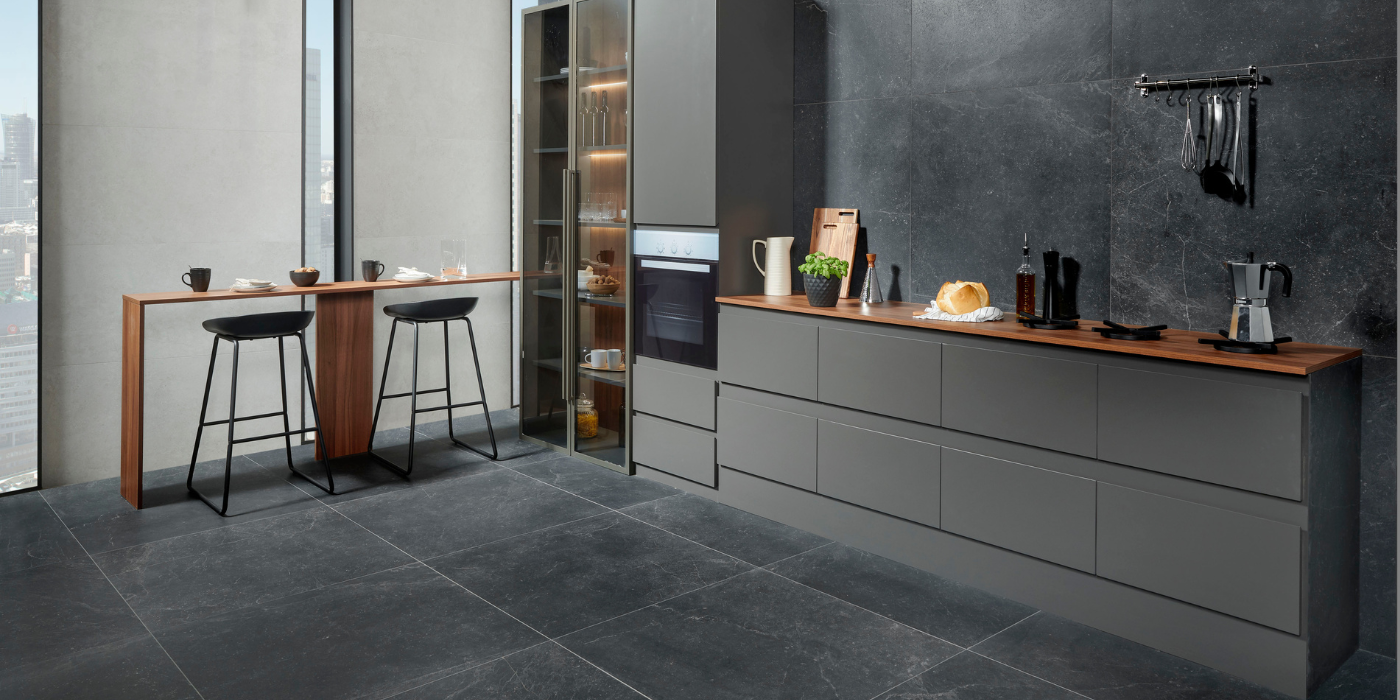 Bleuemix Black Soft collection by Keraben
Tips for keeping kitchen floors clean
Keeping your kitchen floor clean is not just a matter of choosing a floor covering that conceals dirt. Follow these tips when choosing and maintaining your kitchen floor and you will keep it spotlessly clean:
Choose a ceramic tile that is as smooth as possible. The rougher it is, the easier it will be for dirt to seep into the pores.
Choose a resistant, low-porosity material, such as ceramic tile, and you will prevent stains from becoming embedded or the floor suffering from the use of certain cleaning products.
Regardless of the colour and characteristics of the floor, clean it regularly.
A clean kitchen is one of the cornerstones of home comfort, so we hope these tips have served to help you choose cleaner kitchen floors.