Why choose porcelain for swimming pools?
26 May 2022
The pool is a very special space in the home. Not only because it is a place where we have fun and can enjoy ourselves as a family, but also in the sense that this area requires certain technical conditions.
The ground around the pool must be attractive, easy to clean but, above all, safe. Among other reasons, that is why porcelain is increasingly used for swimming pools. In this article, we will explore the reasons to choose porcelain tiles for the most modern pools.
Witch material is better: ceramic or glass mosaic?
Although glass mosaic has been the traditional option for the interior of swimming pools, it has fallen into disuse and has made way for a better option: ceramics. There are many reasons why the tiles of your pool can be much better in porcelain.
1. Infinity pool effect with porcelain
First of all, pools in porcelain offer the possibility of creating an infinity pool effect. Why? Because it can be installed both inside and outside the pool tank, creating a visual effect of complete continuity.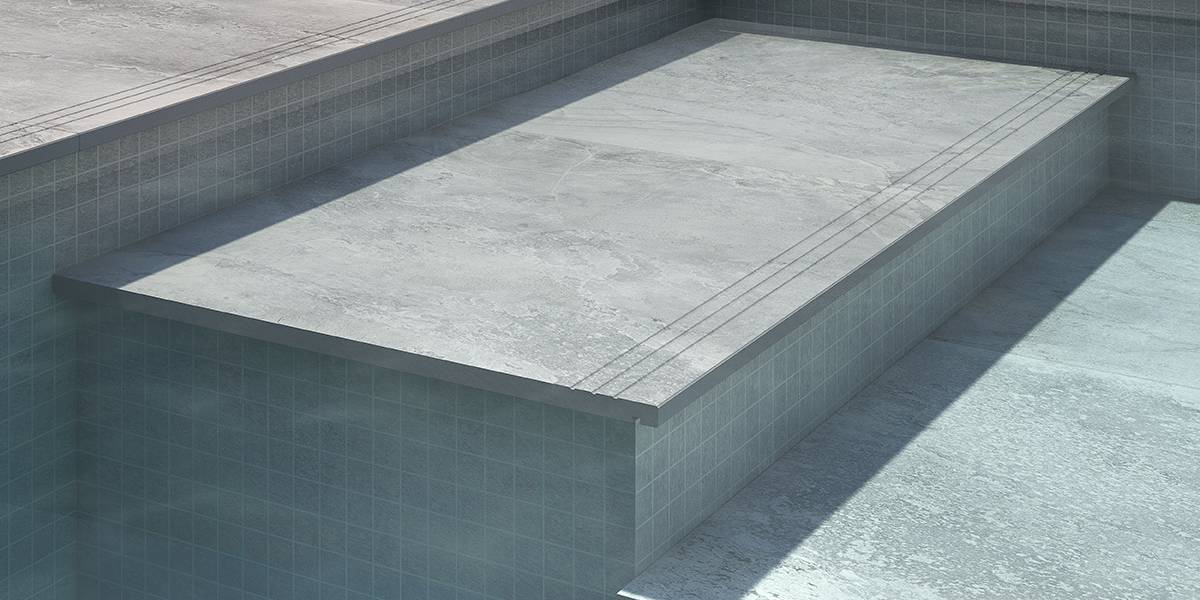 Keraben's Nature Collection
2. Better cleaning and easy installation
On the other hand, the number of joints is very high when installing glass mosaic. Since porcelain consists of larger pieces, we reduce the joints. Undoubtedly, this has a direct effect on the ease of cleaning the porcelain pool compared to the glass mosaic pool.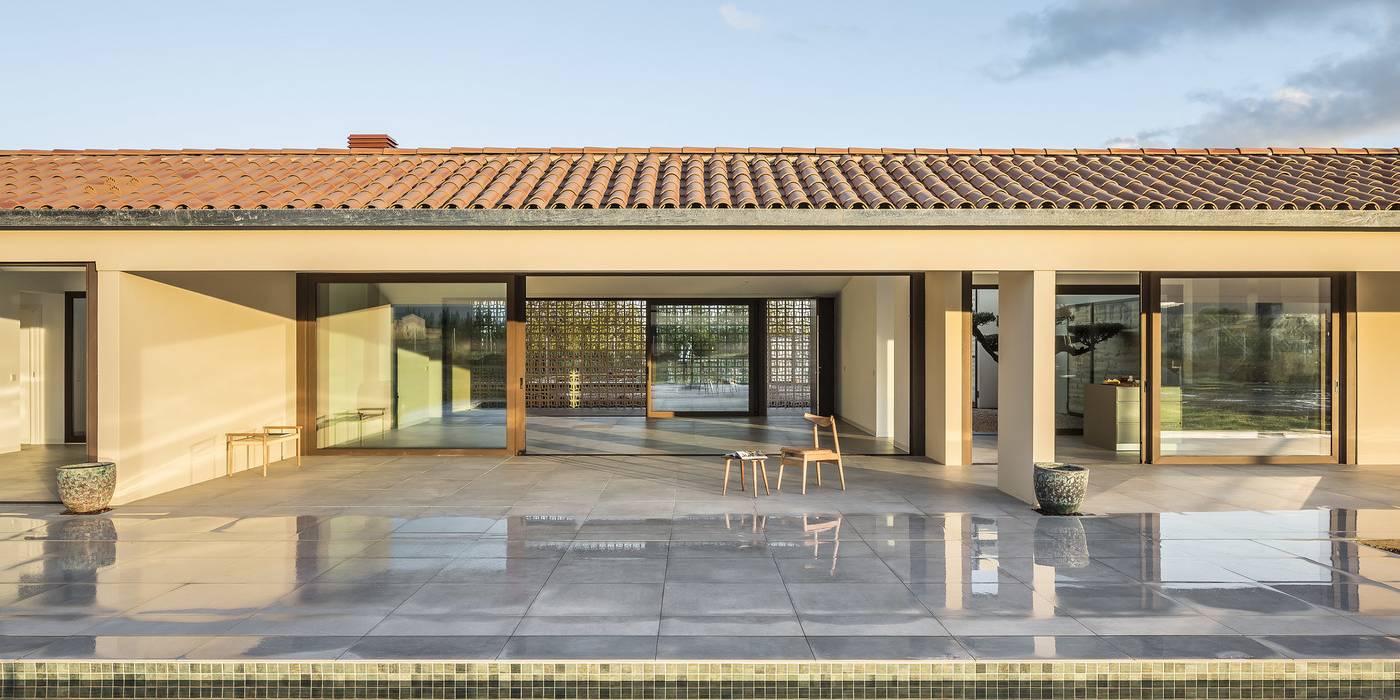 Photography: Germán Cabo
Architecture: Viraje Arquitectura
Ibero's In Time Collection
3. Versatility of designs
The last reason that we will mention, although there are many more, is that the design of a porcelain pool is very versatile. If you want your pool to fully reflect your tastes and personality, there is nothing better than opting for ceramic.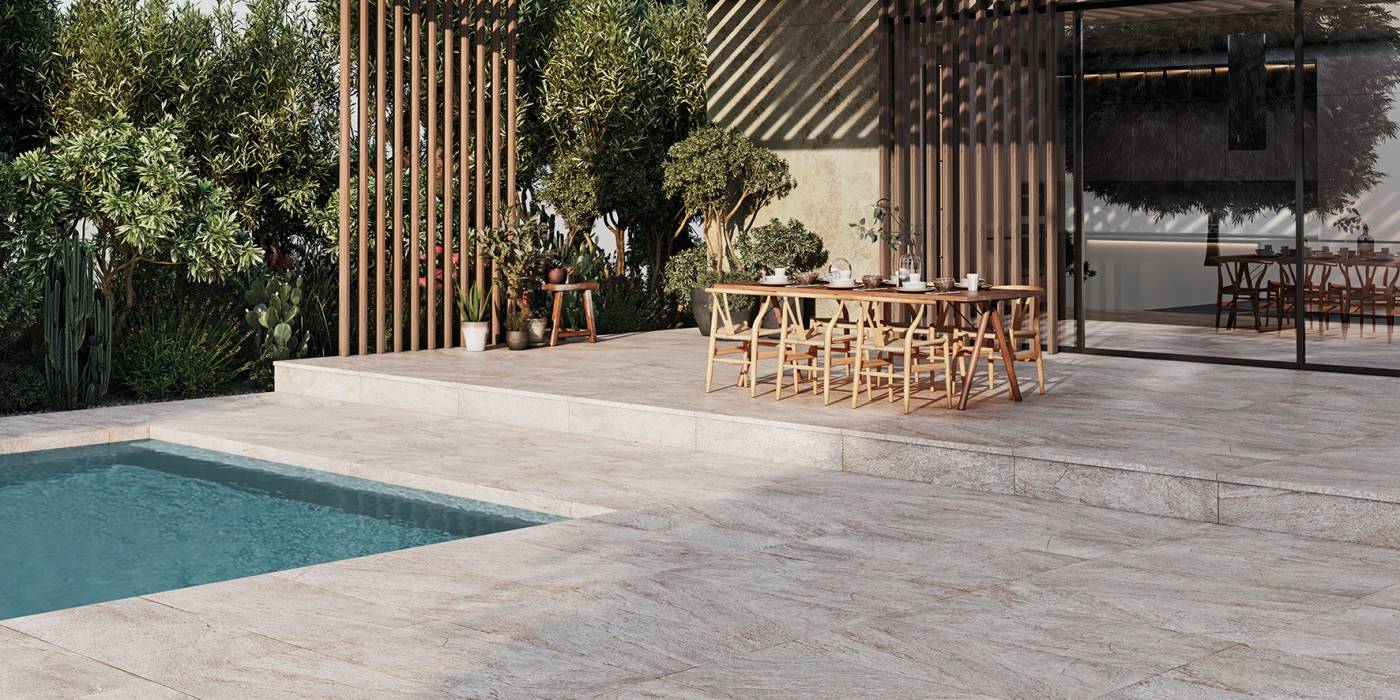 Metropol's Yera Collection
The advantages of porcelain for the interior of swimming pools
When choosing the lining for the interior of the pool, you may wonder if there are sufficient reasons to install porcelain. We do not want you to be left with doubts, so we are going to explore some of the advantages of porcelain in this space.
A great versatility in styles, textures and colors that will make your pool totally unique.
It is a very resistant material, which will not lose its properties over time, due to chlorine, humidity or the sun.
The visual continuity and the infinity pool effect that you can obtain with a porcelain pool are not possible with other materials.
The maintenance of this type of coating is minimal compared to others.
As it has such a long life cycle, it is more sustainable.
Modern pool colors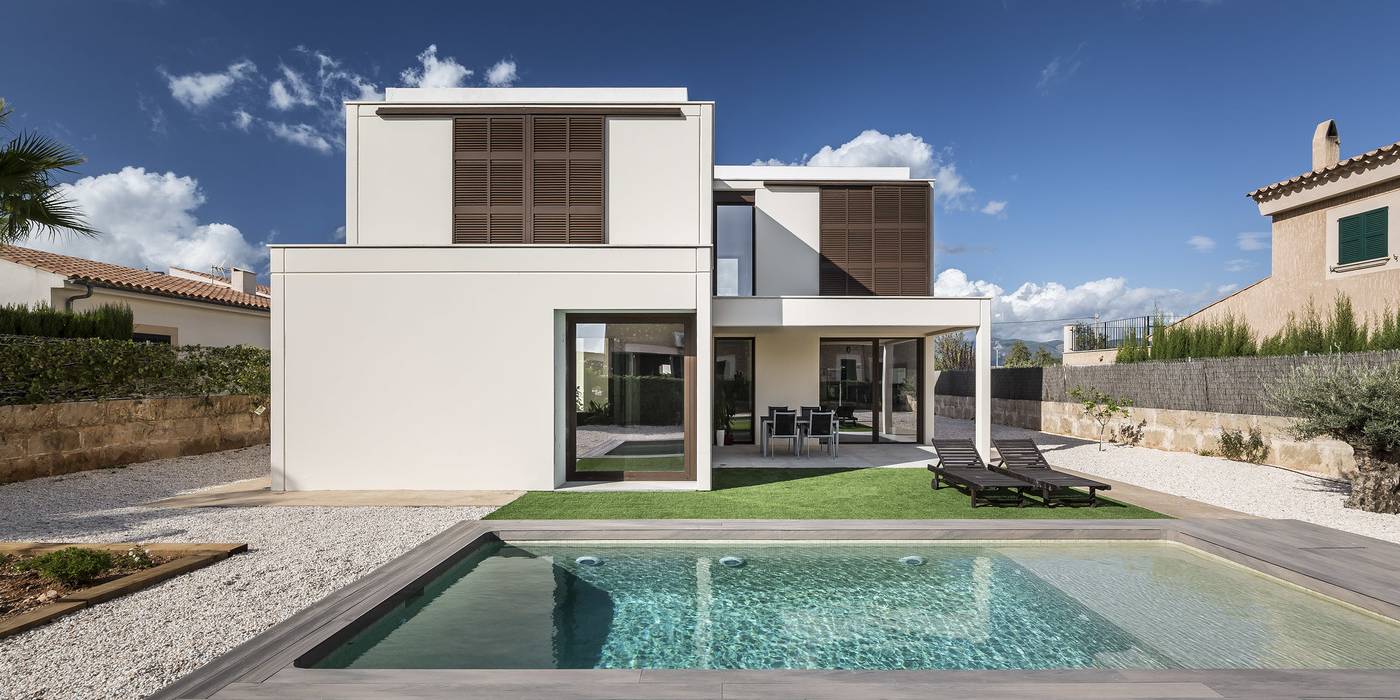 Photography: Germán Cabo
Architecture: Viraje Arquitectura
Ibero's Terranova Collection
For modern swimming pools, a glass mosaic covering in blue or white is no longer enough: they need something else, and so do you. Nowadays, you can find all kinds of porcelain collections that allow you to play with the color of the interior of the pool tank and create unique effects.
With the different options in the Keraben Grupo collections, you can achieve the effect you desire. Depending on the style you choose for the coating, you will get a different effect when the light falls on the water.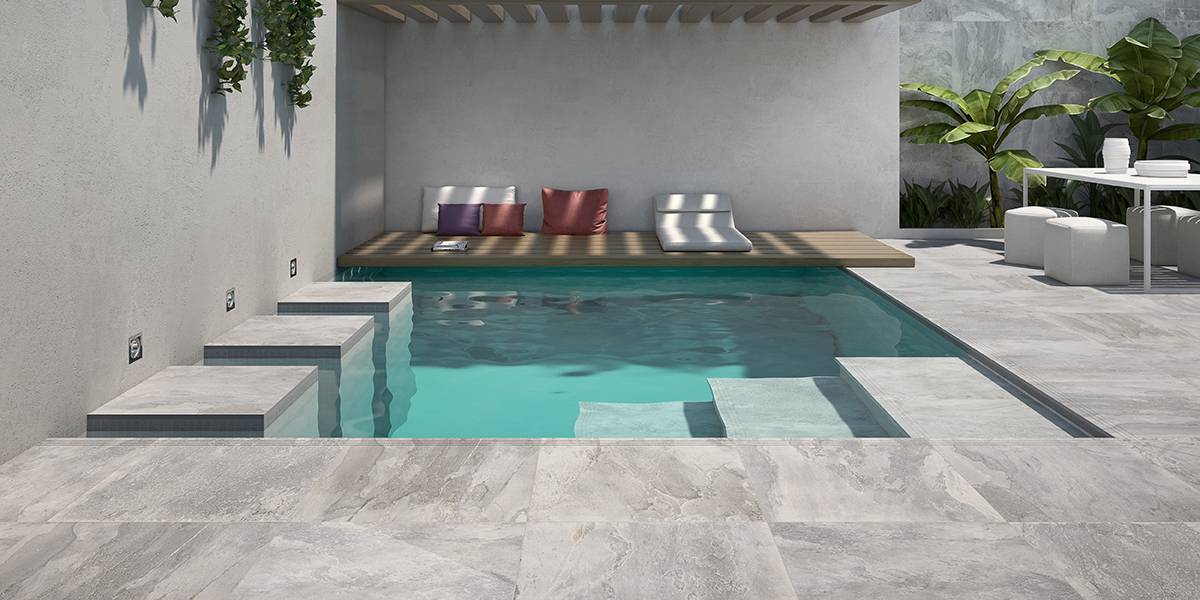 Keraben's Nature Collection
From the cement effect to the collections that imitate stone, the number of colours, textures and combinations that you can incorporate into your pool tank is practically unlimited.
We shall look at just two ideas that are trending, although the options are as varied as tastes. Let's talk about swimming pools with a white coating and with natural stone effect.
A trip to the coast: pools with white tiles
White is a color that gives any space a sense of cleanliness and visual purity that is difficult to achieve with another tone. A white-clad pool transports us to the coast, bringing to mind those endless white-sand beaches.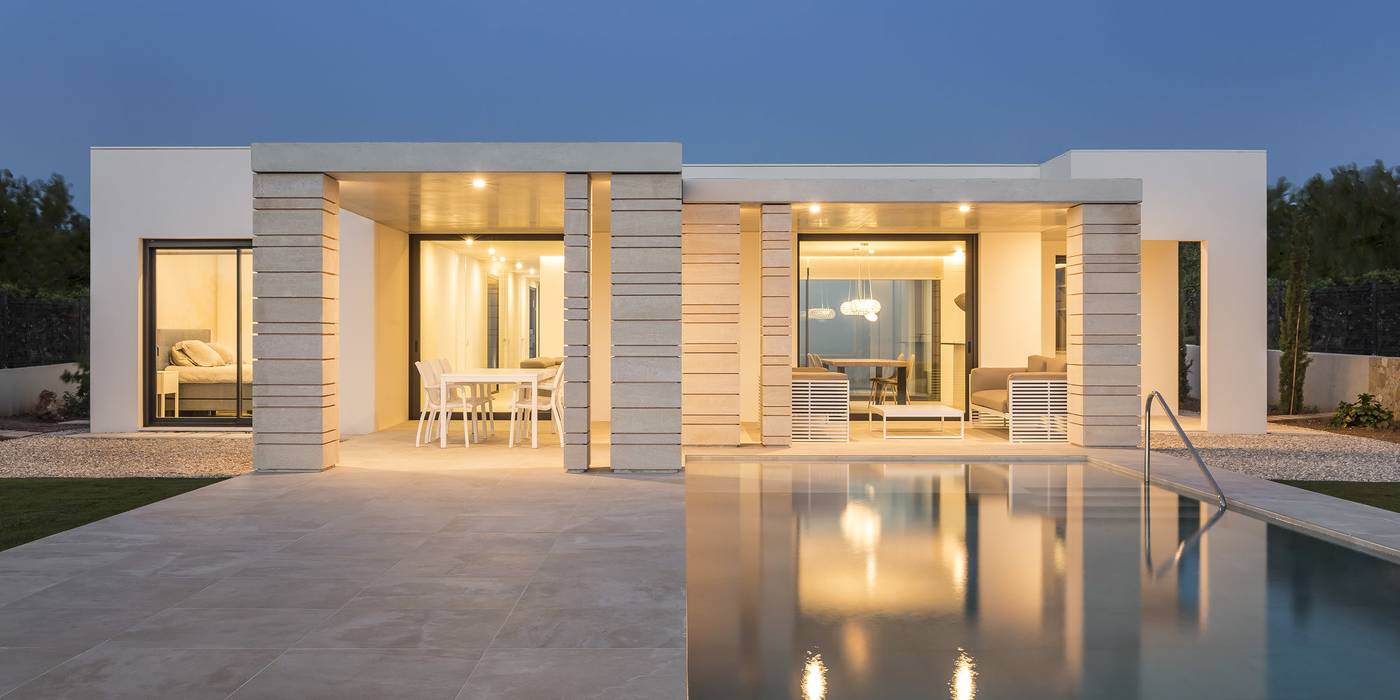 Photography: Germán Cabo
Architecture: Viraje Arquitectura
Ibero's Terranova Collection
And, if in addition to covering the pool shell with this color you also do it with non-slip outdoor tiles, you will achieve unparalleled luxury. The continuity in the white color will make the spaces appear larger and will accentuate that infinity pool effect that you love so much.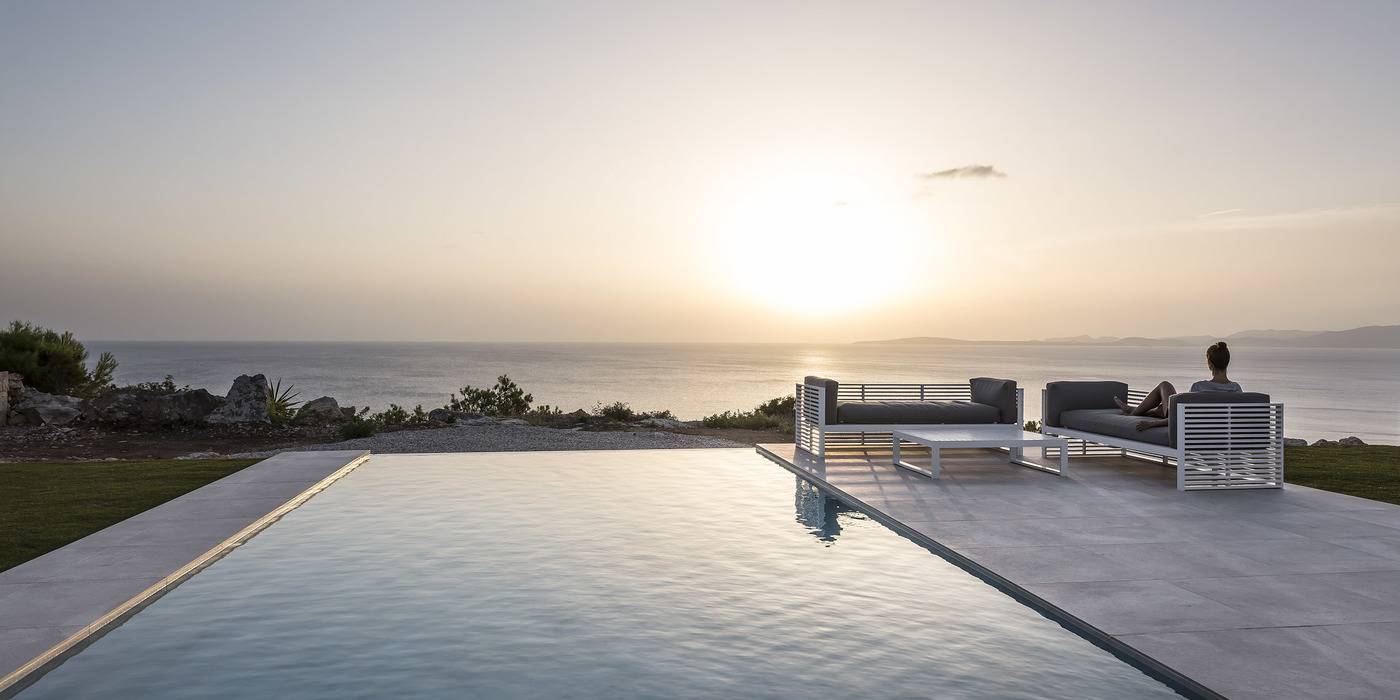 Photography: Germán Cabo
Architecture: Viraje Arquitectura
Íbero's Terranova Collection
At Keraben Grupo we have several porcelain collections that can help you achieve this effect. From the Boreal collection by Keraben in its white tone to the white of the Terranova collection by Ibero.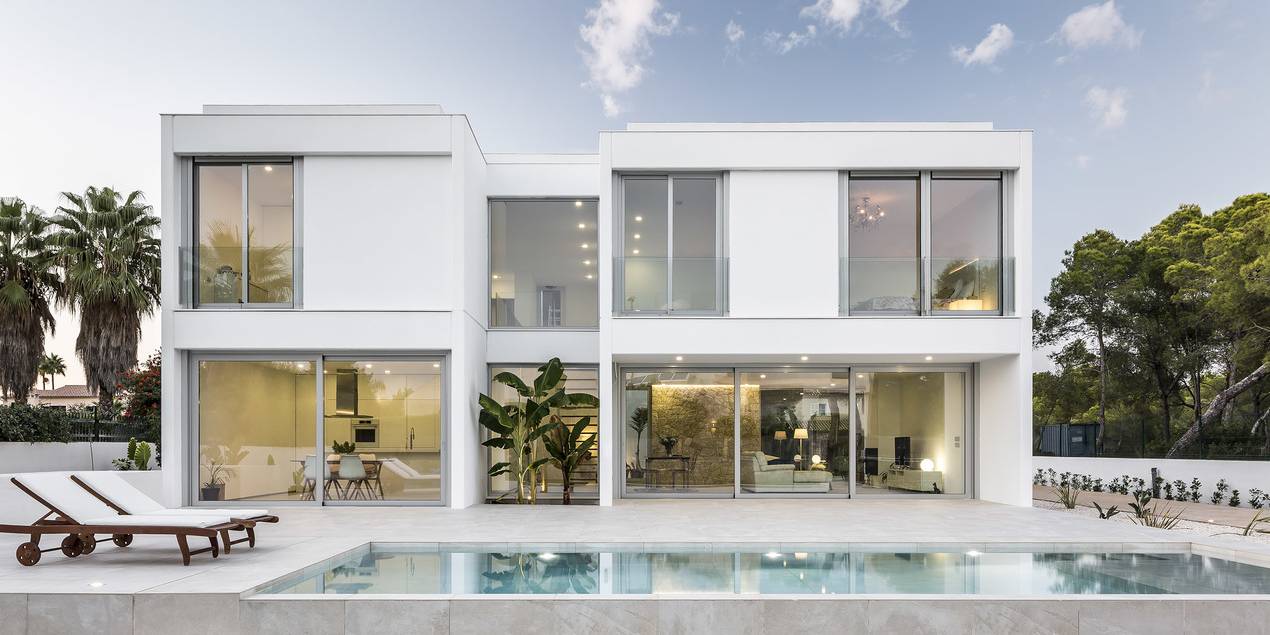 Photography: Germán Cabo
Architecture: Viraje Arquitectura
Ibero's Terranova Collection
Pool liner with a natural stone effect
The natural stone effect has the power to fill both the pool and its surroundings with sophistication. From porcelain tiles imitating marble to others that are reminiscent of quartzite, the options are as varied as the diversity of stones that exist.
In gray or basalt tones, the Sunstone collection by Ibero is at your disposal. On the other hand, if you prefer to be a little more daring, we are sure that Metropol's Iconic collection will surprise you in any of its three shades.
Metropol's Iconic Collection
Whichever option you choose, with porcelain floor and wall tiles, your home's swimming pool and its surroundings will become a space as unique as you are.